This is a quick skim through some articles I read over the summer, mainly by economists, in which I explore three assumptions I think people make about computerised (digital) technology.
Computers are cheaper
Computers are sometimes cheaper.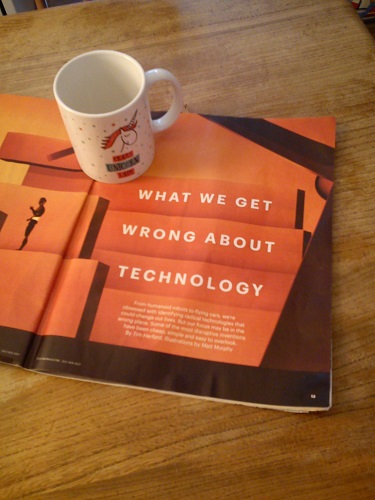 Tim Harford (2017) says "new technologies have polarised the labour market, with more demand for both the high-end skills and the low-end ones, and a hollowing out in the middle." We can use automation to "unbundle" tasks: give automatic repetitive work to computers, and have humans complete the high-end intellectual puzzle-solving parts or the low-end part that uses fingers and thumbs.
An example of this at the Open University is electronic marking. I award marks for two or three parts of a student assignment, the computerised marksheet automatically adds them up and will even warn me if I mistakenly entered an extra zero and gave more marks than are available. (Sorry, students! 
I tried.)
Computers can mark multiple choice assignments, but not read and assess essays. It might be possible to create a computerised marking scheme which would weigh up whether a student has effectively answered the question, should they get some marks for using the right material – providing an implicit answer rather than an explicit one, have they done the referencing (appropriately for this level of study), did they use good paragraph-writing skills, do they need to be referred to module advice on writing introductions and conclusions – but it would be very expensive.
It's much cheaper to employ me to mark essays than to invent a software to do so, especially as I will adapt year on year to assess the answers to new assignment questions whereas the computer would have to be re-programmed every time to do this. (By a human who must make sure they get the programming exactly right – a computer will not spot human error in marking guidance as I sometimes do.)
Harford says, "the most influential technologies are often humble and cheap". The Gutenberg Press revolutionised our lives, but it would not have had any impact if someone had not also invented paper.
We should be cautious about expensive complicated technology. To be taken up and widely used, technology should be easily affordable and it should fit in with the trend of social and cultural development. Technology should enhance human activity, humans should not have to try to adapt to technology.

References
Harford, Tim (2017) "What we get wrong about technology" FT Weekend Magazine July 8/9 2017, pp.12-18.
"Emma" - Le Trèfle Maxi Feuille (2013), added by Le Trèfle. Available at: https://www.youtube.com/watch?v=KbMOLg-2SFw, (accessed 26/09/2017).