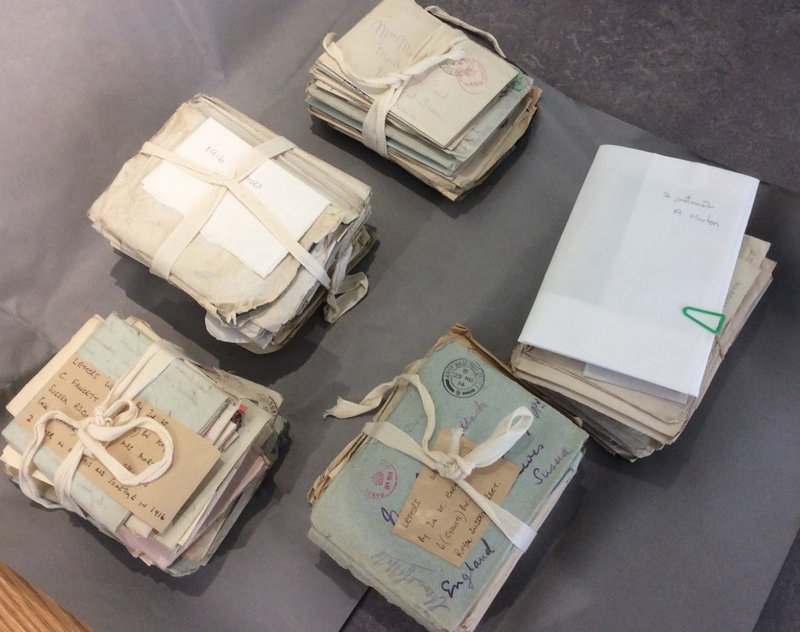 Two days spent in the Liddle Archive, Leeds University reading through bundles of letters sent by, and received by the 20 year old Iris Mary Hotblack. These were written and received between 1914 and 1916 and were to and from her soon to be fiancé then husband, a second male 'pal', a friend from school who had married an American and was in California and her brothers. 
They are a fascinating insight into the times, the outbreak of war, the billeting of 10,000 men on the town of Lewes and a developing love story. Iris married the 'boy' she had met on holiday in Norfolk one summer when she was 15 and he had been 18. He was following a military career in the Royal Artillery and was called up straight away in 1914. Alan Morton worked closely with the RAF, qualified as a pilot and was an artillery observer in the air, and on land. They married in June 1916, an ominous time for the war and ahead of the 'big push' that he was aware was coming. He returned. 
Contrary to mistaken popular perceptions most men did return, over 83%. Figures for individual battalions could fair far worse or better. The 22nd Division that appeared in Lewes and was billeted on the town and later sent to Salonika saw over 90% of men return, with casualties split between combat and disease.
47% of men of eligible age did not go into combat. Again, despite popular misconceptions and a press obsessions with photographs of women in every kind of role, there were always a substantial proportion of men deliberately pushed out of the shot when these photographs were taken. They were in the mines, shipyards and munitions factories, they were running essential business and in the civil service.