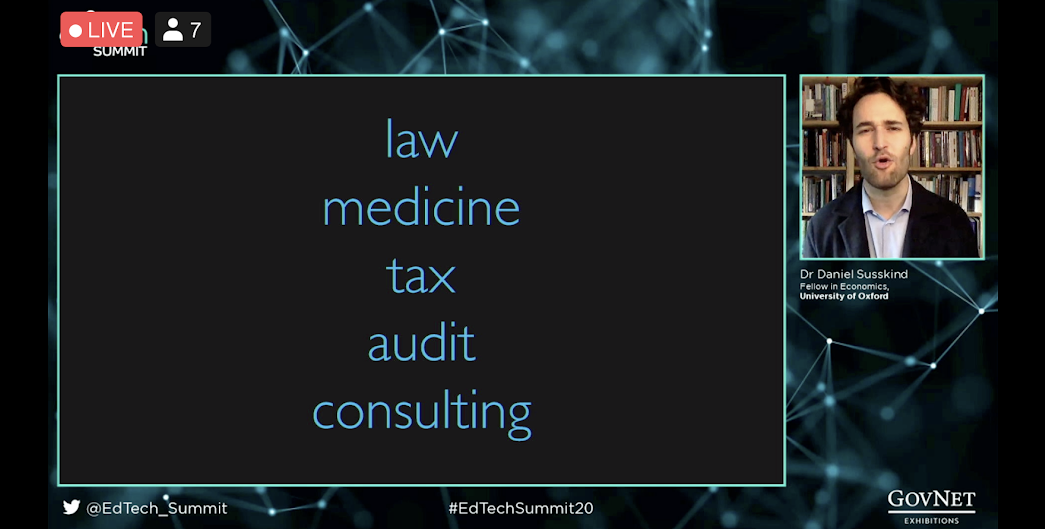 This was a lecture that sustained its pace. I've changed its title because I suspect that he adapted 'the lecture of the book' 'A World Without Work' and then journalistically tossed in a bit of Covid, when in fact his presentation and thesis was that education is getting behind and profound change is in the air. Some have already embraced it. Woe betide those who get left behind. 
There is a time and place for talking not teaching. Teaching can be talking, whatever you are taught in PGCE.  
There were five parts to this memorable and important talk. 

Blue collar workers

White collar workers 

Artificial Intelligence 

White collar work is at risk of technological disruption

How to respond to this > education 

The Context of Covid-19 
Part five is what matters to us in education - the rest was a preamble. 
Too often education feels as if it is working in isolation from the 'real world', not helped if underfunded and using kit, platforms and apps that are out of date.
If we want to prepare students for the world of work they need to be equally familiar with Microsoft systems (Team and 360) as well as Google. In the creative industries they're better off on Macs too. 
It was an eyeopener to learn what Artificial Intelligence (AI)  is doing in medicine, journalism, law and architecture. Where is it making the most ground in education though?? Language learning? Accountancy and Law? 
As a society we suffer from a bias towards the status quo, Susskind said. I have to wonder if we are just little England. We can never be Singapore. We lack the desire to succeed through change. 
I have to wonder if education is populated by what Everett Rogers would term the 'laggards' rather than 'innovators' and 'early adopters'. We lack the money to come in earlier and lack the mindset to try new things, indeed anything that hasn't been suitability certified first. 
Speaking like a consultant to the education sector, Susskind warned that 'the way we teach people hasn't changed for decades.' Ironic therefore that he was speaking from a Balliol College study, one of the oldest colleges in Oxford, in one of the oldest universities in the world that has its foundation and geographical location based on the printed book, its rarity and exclusive access to the knowledge they contain through the Bodleian Library.  
Susskind spoke of 'spectacular failures in teaching people remotely', without offering examples; perhaps this is personal experience. There have been successes too. I have to wonder if the fails get talked about, while the successes go under the radar, just as the world wide web did for a decade or more after its invention and application in Cern. 
HIS CONCLUSION
"We need to think more boldly about the way we teach and face the inevitability, ambiguity and uncertainty - and be willing to retrain."
I need  to read his books! 
Daniel Susskind, Balliol College, Fellow 

I have 'A World Without Work'. 
It is stacked with no fewer than 27 other books I want to read and review I will have to set some priorities. First World War History Books form one stream - by far the largest. I can have two of these on the go at any one time. E-Learning comes next, and includes a backlog of TES magazine and now Daniel Susskind. There is also a small stack on sustainability and the environment - mostly George Monbiot's back catalogue.