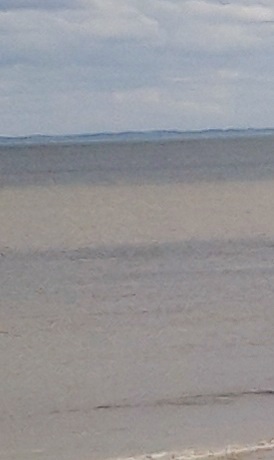 Yesterday,  we arrived at a deserted beach,  but by the footprints that appeared in the sand,  this beach, was not so deserted as it first appeared!

They were a few people at a good distance away, paddling in the sea. It was a lovely spot,  far away from the crowds, the candy floss, the icecreams and all the noisy fun fair rides!
Then nearby,  there is a nature reserve, with a small wood and a stretch of cool blue water. We saw some Canadian geese and some black ducks in the pond.  The wood was enchanting and I saw a squirrel run out in front of me and he raced across the car park! 
I quickly snapped it with my mobile phone, but  I am not a very good photographer, so sorry if it is not very clear. It was so lovely sitting in the wood, in peace and tranquility, but I can't tell you where this place is because it is a secret!  
To protect the wildlife!
Translation
Hier, nous sommes arrivés sur une plage déserte, mais d'après les empreintes de pas qui apparaissaient dans le sable, cette plage n'était pas aussi déserte qu'elle le paraissait !
Il y avait quelques personnes à bonne distance, pagayant dans la mer. C'était un endroit charmant, loin de la foule, de la barbe à papa, des glaces et de tous les manèges bruyants de la fête foraine !

Puis à proximité, il y avait la réserve naturelle, avec un petit bois et une étendue d'eau bleue fraîche. Nous avons vu des oies canadiennes et des canards noirs dans l'étang. Le bois était enchanteur et j'ai vu un écureuil courir devant moi et il a couru rapidement à travers le bois !

Je l'ai rapidement pris avec mon téléphone portable, mais je ne suis pas une très bonne photographe, donc désolé si ce n'est pas très clair. C'était tellement agréable d'être assise dans le bois, dans la paix et la tranquillité, mais je ne peux pas vous dire où se trouve cet endroit car c'est un secret !
Pour protéger la faune !