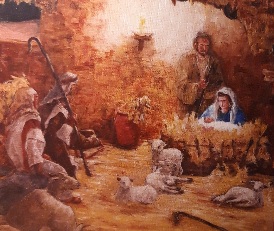 Artist Jon Clayton (mouth painter)
Why do I like this christmas card?
First of all I like the beautiful bright gold colours used in the painting.
Secondly the artist was painting this picture using his mouth and paint brush as he had a disability.
Thirdly it showing the poverty into which Jesus was born in a humble stable. No luxurious palace, even though he was of royal blood. It made me think of many families who would also be having a frugal christmas this year!