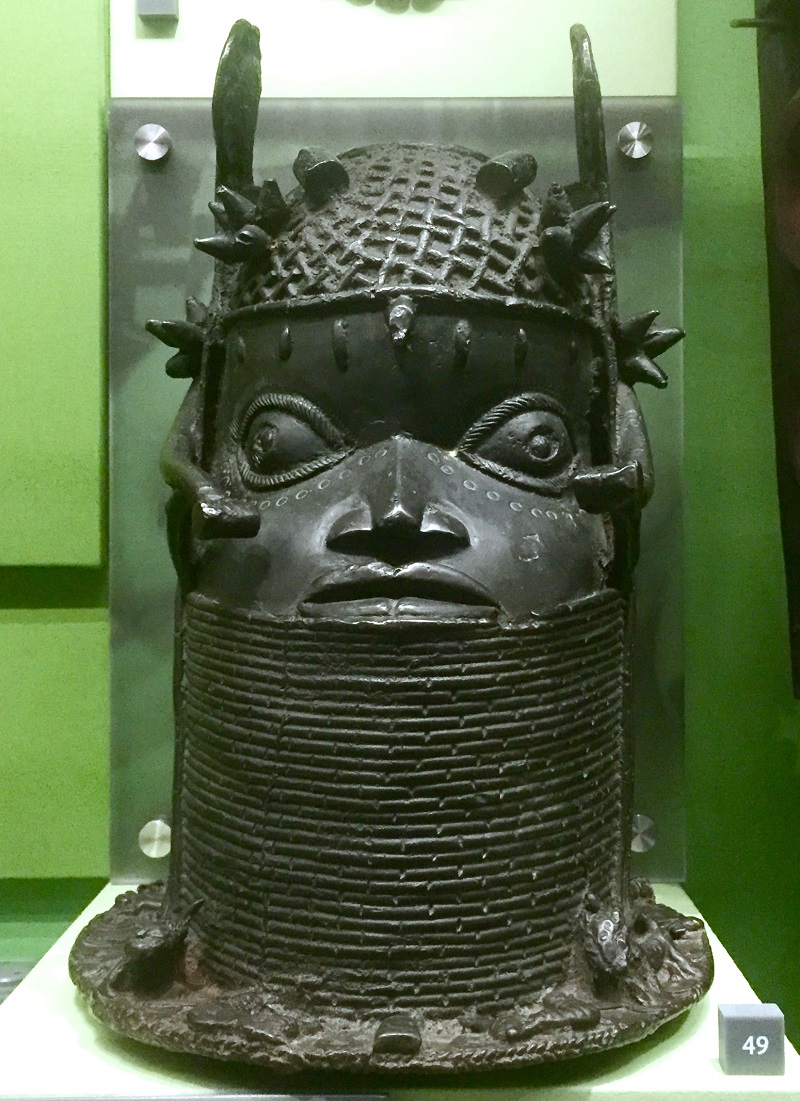 This is a bronze of the head of an Oba - thought to have been cast around 1816 or after. It was part of the loot from the 1897 destruction of the Kingdom of Benin and was gifted to the Royal Albert Memorial Museum in Exeter by Ralph Locke. He, along with Alan Boisragon, was one of the two British survivors from the initial expedition to Benin and accompanied the group which subsequently sacked the city. Locke served in the consular service in Nigeria and on return to the UK became a prison governor, he was apparently governor at Exeter prison when he donated this casting. He made some other donations (I think the figure of a Portuguese soldier on page 168 of Crossing Boundaries A111 book was given to the BM by him) but sold most of his collection at auction in the 1920's - so presumably it is now all over the world in private and public collections.
There is more detail on the Digital Benin website (which is where I found out about the object in the first place)
The object is displayed as part of the 'Africa' section of a diverse ethnographic collection at RAMM, I've also included the contextual information they provide. The display text includes an image of members of the 1897 expedition and the object is described as 'plundered' - the information also makes a point of saying the object was donated to the museum. There is interesting detail about how the object would have originally displayed and of its original meanings - there was no reference to the relationship between the cast heads and carved ivory tusks, perhaps because the museum does not have anything to display. 
The image below is of a more contemporary casting that is also displayed in the gallery. This is described as a 'Lost wax casting in brass of an Oba or King of Benin on horseback. The casting was made by a Yoruba craftsman in the Benin court style for sale to a British expatriate'

It is recorded as 'purchased 1962-68', presumably this is a date range for original sale as I would have thought that RAMM would have an exact date if a museum purchase had been meant. The object is identified as produced in Owo, Southwest Nigeria. It was interesting to see a 'shiny' bronze and try to imagine what the original royal art might have looked like.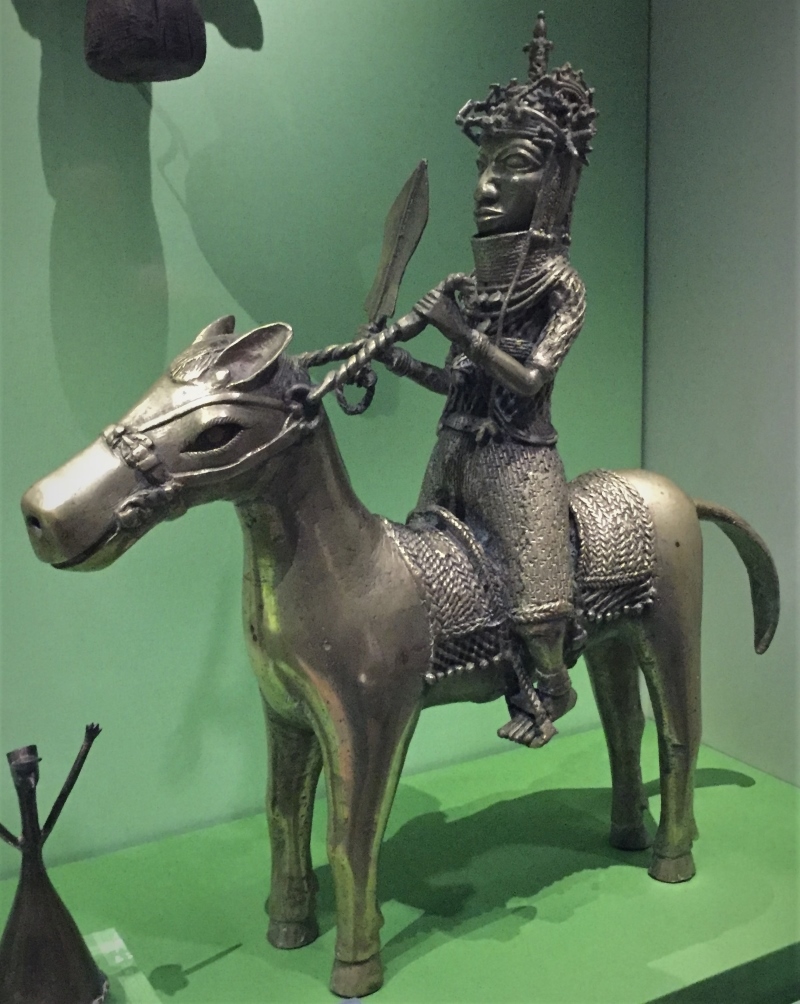 RAMM has repatriated at least one object from its collection in recent years (returned to a first nation group in Canada after a vote by the city council) I don't know if there are any active claims for return of the Oba's head bronze to Nigeria.