This looks good on a flipchart, I even took photos of it. I wish it were more dynamic, on the paper version the reverse side of each catergory has a set of industry related quotes.
How would you jiggle these terms around?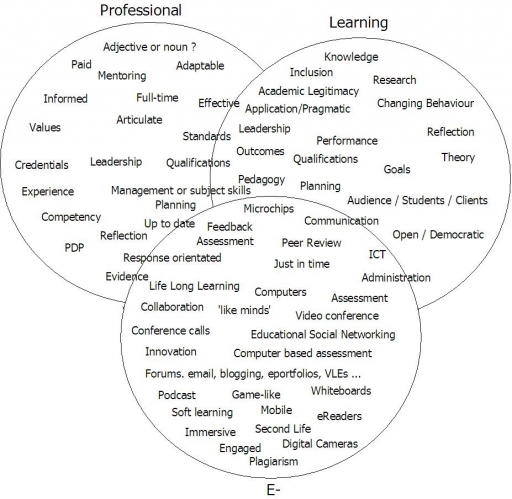 How do I create a classic Venn Diagram with a piece of software?
Is there the means to play with diagrams like this collaboratively in a wiki or Google Docs?
I'll produce a reverse image of this with the references.
I also realise that I have about thirty items that would appear where professional, 'e-' and 'learning' cross. Sometimes a handwritten essay with a hand-drawn diagram is so much easier to produce and correct
How about handwritten essay produced with a stylus on a Wacom board?
Spent the morning walking along Cuckmere River to the Channel where it became remarkably mild in the sun. Chewing over reasons why efforts to raise finances to produce high-end, TV docu-drama programmes linked to interactive 'edutainment' never got off the ground in 2001, despite fullsome praise from the likes of a founding director of Cisco (John Cage) at NABS where he had the keynote speech and we were presenting.
Cost.
We wanted to wow viewers and spend a great deal and thought there was a way for this to make money. The broadcasters, stallwart supporters of Atlantic Productons with whom were were developing product, were at this very time pulling away from the websites as pits of financial loss. Commercialisation is everything.
It is therefore timely that there was an hour long discussion this morning on the rise of Thomas Edison, the inventor of the 'Innovations Lab.' I was in one once myself, the BT Think Tank. If anyone will have me I'll join a new think tank, if not, I'll form my own.
Cost still matters a great deal:
How to radically cut costs by going down the e-learning route (pure online and blended).
How to make money creating learning for a global market.
This is how to educate 50% of UK school-leavers. They leave school, but they don't leave home. They take their degree through the OU or some similar while working.
A new generation with a new set of concerns and motivations.