When it's a photo-journal.
As I work from home I alleviate the boredom of the day by at various times moving to my wife's desk.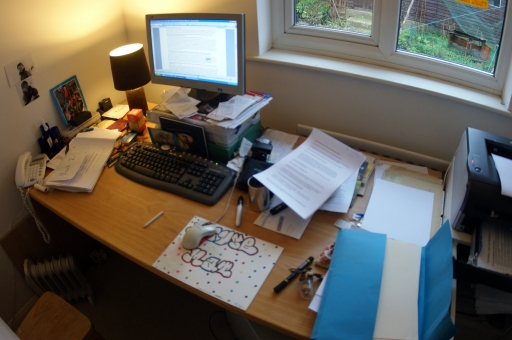 Assuming she is not, which she often isn't because she has a laptop and also likes to spend part of the day looking out the front window.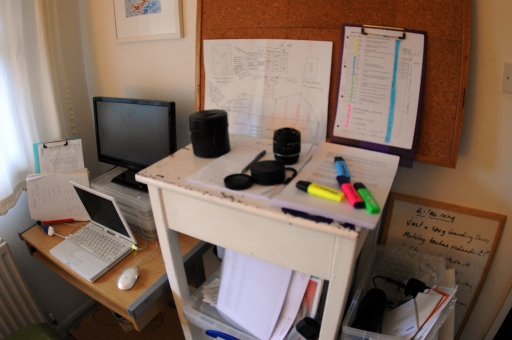 Meanwhile I might shut myself in here. Actually at the end of the bed like a teenager doing A' Levels, in this case on an iBook which I think is eight years old, which in dog-years makes it about 86. The battery has been replaced, the screen has gone and the operating system doesn't support most Flash and crucifies MyStuff. I did H807 on this and nearly didn't survive the experience.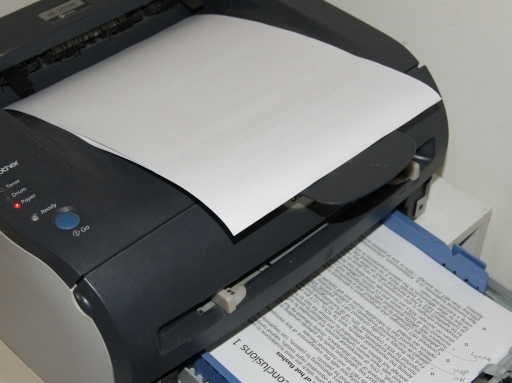 And then I get fed up with computer screens, and do this (onto recycled paper used for professional projects which risks getting me very confused if I look at the wrong side of the sheet).
And so I spend an afternoon away from the computer and have found this an effective way forward.
Which is often the case.
I also like to write on wallpaper backing sheets that come in long scrolls. I have one taped to the wall above the bed right now. My wife tollerated its presence last night, she may not once I've scrawled H808 ECA stuff all over it.
Of course, if a picture is worth 1,000 words then I have once again said far, far too much.