It has surprised me how much my mind has be thrown by this exciting prospect. Like so many OU students I'm now very much in the camp of having my mind in two places.  Of course, the MAODE is complementary and my working world will substantially be an online one.
So, with one major sports related e-learning project set to one side and my head engaged in OUBS matters I return to contemplating 'Expansive learning.'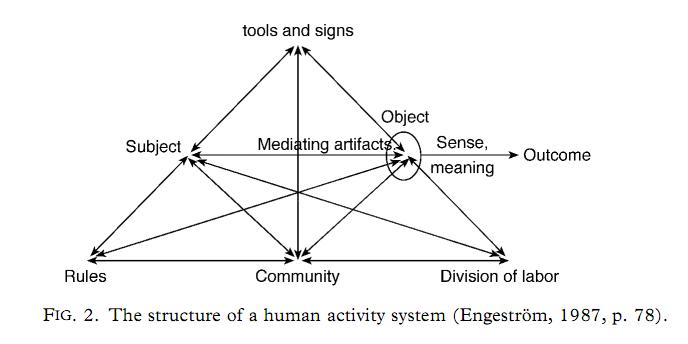 I've decided that my problem isn't with the thinking, but with how it is expressed. I've therefore taken this model and set it up with chess pieces on a table. I need to visual people, objects and concepts rather than giving them titles or symbols. Some years ago when developing a project I got permission to spend an hour at a local youth theatre and I had the young people walk through and improvise the roles I was trying to form into a video script.
Where there's a budget to do so it pays to hire a designer, visualiser or art director such as David McCandless.
I wish academics, like copywriters in advertising, would work with art directors or designed, anybody who can better visualise what they have in their minds. There is more to sharing knowledge than text and diagrams. Where I also struggle is where these diagrams take on the attributes of science-fact, when they are simply models - one means of sharing a concept where there are plenty of others.
How often do you hear people say 'I see what you mean?'
Perhaps the best was to express Activity Theory would be as a podcast, to explain it without any image allowing each person to visualise it in their own way. Now there's a challenge.