(From webpage about origins of writing: cuneiform writing on a clay tablet.) 
This blogpost is about how to buy a tablet without having to look down the back of the sofa for spare pennies 
NB If you are an Open University  student, you may be eligible for a grant to buy new computing equipment or broadband provision - ask your Student Support Team for details 
I recently gave a presentation on the use of WhatsApp to support students (and lessen the workload for tutors). I was suggesting we could move from using our personal mobile phones to using WhatsApp. For many people, WhatsApp already is on their phone, however I have it on a tablet I acquired about a year ago. I find it helpful that I have a separate number on the tablet which I can use as a 'work' number. This means I can put the tablet away at night, for example, and lessen the risk of being woken up at 2 am by text messages. 
(I don't think students are callously sending me texts at 2 am because they want an instant response, BTW. I think they sometimes don't realise this is my personal number so that I will be picking it up if they send a message. Sometimes, too, the mobile signal in their area is not as strong; they write the message at 4 in the afternoon, but it only wings its way to me in the early hours of the morning.) 
My colleagues at the presentation expressed wistful envy as I described how useful I find my tablet: for checking over my powerpoint on train journeys while travelling to tutorials, for reading electronic versions of academic papers, accessing email and the module forums while on the move - and chatting to my students on WhatsApp, then being able to shut the tablet and put it away so I don't feel obliged to chat with them all night 
It takes nifty photos too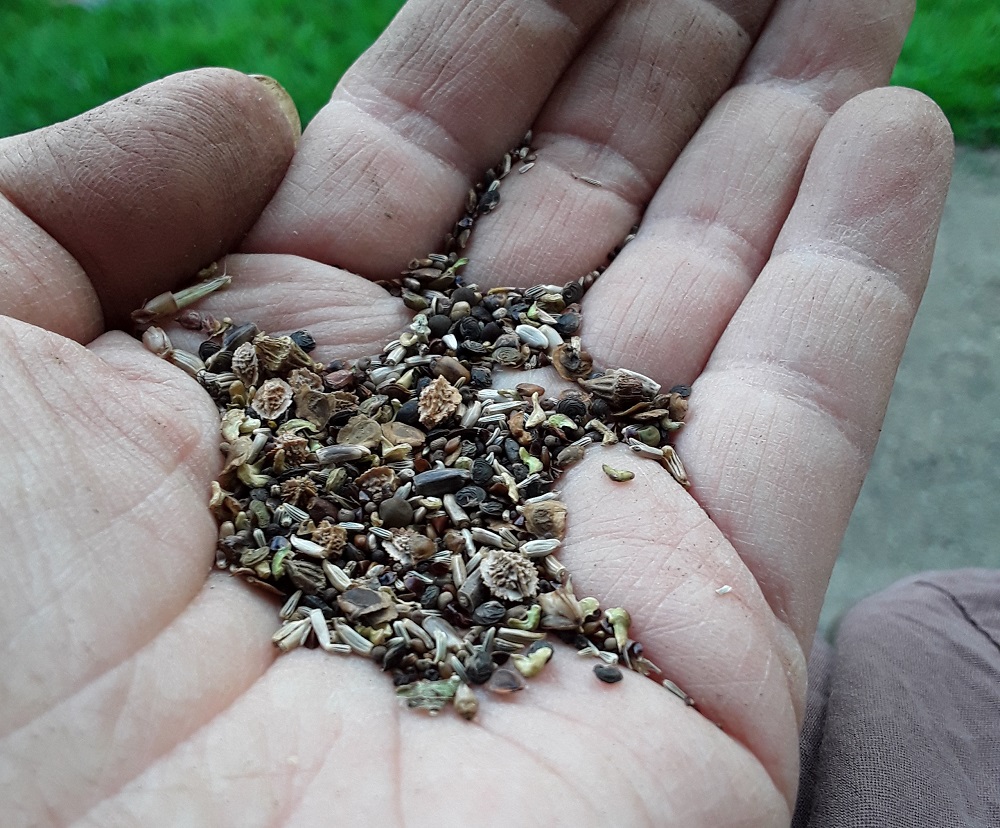 (Wildflower seeds)
You may be surprised to hear this, but unfortunately in our work as Associate Lecturers at the Open University we don't get paid our weight in gold. So my colleagues were puzzled as to how I could splash out money on such a high end product. I explained that I had found a handy affordable route to get my tablet, and this is it:-
I first thought about getting a tablet when the new Apple iPad came out. Boasting an impressive amount of functionality (I think that's the right word 
), this was about half the price of older iPads which could do a similar amount of stuff. It weighed in @ £399, not quite cheap enough for me to rush at it in the way I do when there are shoes on sale at my favourite shoe shop, but enough for me to linger over it and wonder if I could cut back on vegetables for a couple of months, or even something essential - like kitten heeled slingbacks.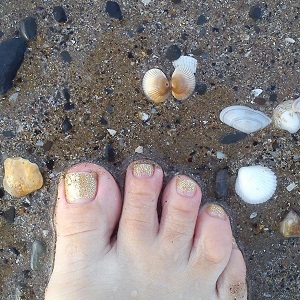 It's easier to do without shoes in the summer - in South Wales, anyway. This is the beach at Saundersfoot. 
While I was contemplating the iPad, I went into my mobile phone shop about something completely different. There I saw the Apple iPad, and I realised you could get it for a monthly amount like you can a new phone. I was a bit hesitant, because if I did that I wouldn't be able to use my John Lewis credit card in John Lewis and get double points, but I began to be seriously "seduced" as we call it on DD102, after Bauman (1987) cited in Hetherington and Havard (2014, p.125). 
Then I saw that the mobile phone shop had a Samsung Galaxy - a tablet which also has an impressive amount of functionality 
I was canny. I listened to the salesperson. (I mean, not properly like when people talk to me about shoes, but I nodded my head when he said things.) Then I came back with my daughter. She said: "Oh yes, mum, the Galaxy is for you because it has Microsoft Office on it, and it has a *something-titum-titum* camera, you will like that." There was quite a bit more; I was impressed at how much she knew about my computing habits - she is pretty good at observation research. 
Because I am already a customer of this mobile network, I got a loyalty deal. Instead of £19 per month, I walked out with the tablet @ £17 per month over 2 and a half years- that includes some decent amount of downloadable data each month which is worth quite a bit on its own. £17 per month is even less than I pay for cat food, and a lot less than I pay for shoes if I am in the mood, so I was a happy lady ... I mean, professional woman with a PhD to prove my credentials. 
I did also buy a couple of covers for the tablet from Fintie to protect the screen. One has a Bluetooth-able keyboard in it, and the other is just a cover - they both have a Japanese picture of a cherry tree on them. The one with the keyboard is for when I go away from home for a few days. It's quite heavy so normally I use the other one, and just use the keyboard on the screen (whatever the technical word for that is).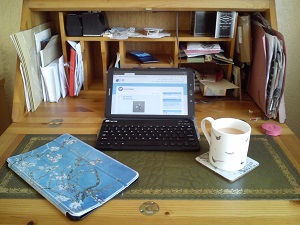 The tablet fits perfectly in my (Radley) handbag
One of my colleagues described himself as 'technophobe' - which is just like us Associate Lecturers. We can run an Adobe Connect tutorial with polls and breakout rooms to allow 30 students good quality discussion time, but we think our phones are Smarter than we are. If this reassures you so-called 'technophobes': my tablet has a nice size screen and easily understandable icons, and I have never yet had to ask my daughter to help me figure it out. I'm not of that generation called 'digital natives' (see Smith, 2012 for a critique of this concept), but this tablet is of a generation of computers that are human-friendly so I am good with it
References
Hetheringon, K. and Havard, C. (2014) 'Consumer society? Identity and lifestyle' in Allen, J. and Blakeley, G. (eds) Understanding Social Lives, Part 1, Milton Keynes: The Open University.
Smith, E. (2012) 'The Digital Native Debate in Higher Education: A Comparative Analysis of Recent Literature / Le débat sur les natifs du numérique dans l'enseignement supérieur: une analyse comparative de la littérature récente'. Canadian Journal of Learning and Technology / La revue canadienne de l'apprentissage et de la technologie, [S.l.], v. 38, n. 3, nov. 2012. Available at: http://www.cjlt.ca/index.php/cjlt/article/view/26327/19509 (Accessed Sept 2018). doi:http://dx.doi.org/10.21432/T2F302.