Personal Blogs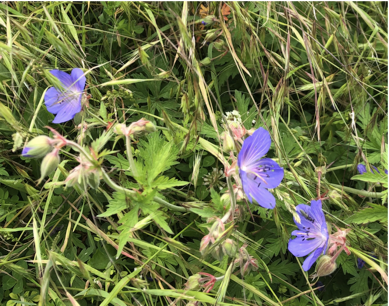 This handsome flower which I spotted yesterday (you see I am a flowerspotter) is meadow cranesbill, Geranium pratense. It is called cranesbill because its seed-pods look like the bill of a crane. You may be suprised that it is a geranium, because it doesn't look quite like the geraniums you see in pots, but I believe they are more properly called pelargoniums, at least by botanists.
The Latin name Geranium is from the Greek γέρανος, 'geranos', which means a crane, and this give scope for confusion, because the name pelargonium is derived from the Greek πελαργός, 'pelargos', a stork, and some pelargoniums are called storksbills.
The French for crane is grue and this opens up another interesting byway, because it is thought the word pedigree originated fron medieval French pé de grue, cranes-foot. When scribes drew up family trees they showed descent by a symbol thought to resemble a crane's foot.

This blog might contain posts that are only visible to logged-in users, or where only logged-in users can comment. If you have an account on the system, please log in for full access.
Total visits to this blog: 297207