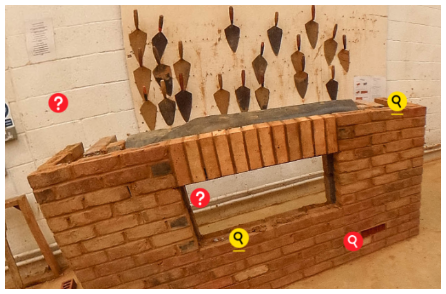 I've stitched together three tours which cover each of Electronics, Mechanical Engineering and Electronics labs. 
Electronics 360° Interactive  http://bit.ly/2uovM2U
Mechanical Engineering 360° Interactive   http://bit.ly/2w1imKy
Bricklaying  360° Interactive  http://bit.ly/2T9Q6xn
These can be used as they are, ideally if someone clicks around the space telling an audience what they are looking at. To use independently it is so easy to add this voice over. You just click on a scene and talk about it! 
As you have seen much more can be added depending on the intended use:
'Hot spots' where a video clip, or explanatory text and an image are used.
'Hot spots' that click to a close up.
Addition of 'Interactive Activities' – as demonstrated here in Catering.
Catering http://bit.ly/2w3izwN  

Any one of these '360 Tours' can be 'cloned' i.e. copied in its entirety, renamed, and used for a different purpose, for example:
Health & Safety : we add further shots indicating a hazard and students must identify these and understand what to do
'Teleport' off site : 360 is wonderful for taking an audience somewhere out of bounds or inaccessible. With the right permissions I could get shots from a nuclear power plant, electricity sub-station, building site … you name it (In a former career I have produced training videos for all of these and many more!)