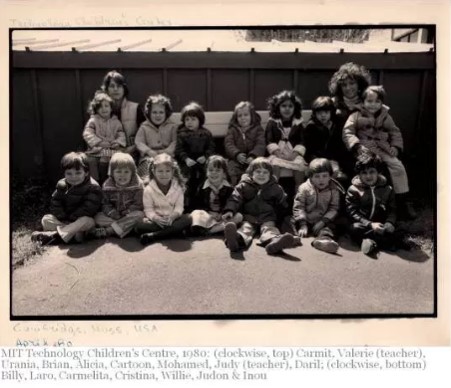 During a move, a lot can resurface. The job offer was imminent. I had to think about relocating again. During the decade and a bit I had lived in the U.K. I had gotten used to moving a lot and changing addresses. From Edinburgh, to Bristol to London I had to move through 12 different flats and houses so I was always travelling light. I could not gather too many books or pictures or furniture. And I kinda liked it that way. When I returned to Greece, I thought it might have been a good time to grow roots. But, itchy feet don't give up on you so easily.
And it was time to move again.
Somewhere in between all my books and things I had to pack, I found the old frame which used to hang over my desk when I was a pupil to remind me of my childhood in the U.S. We had to move because my father had found a teaching assistant post with MIT, while finishing his double postgraduate masters. My sister was only a baby and I, a feisty three-year old. The good it did me was immeasurable. I was exposed to a different culture, a different language and in the MIT Eastgate Children's Centre, an international environment like no other. The experts say children form their own little world, with its own language, norms, routines and culture. Much like a firm does. I remembered I did well, I couldn't wait to wake up every morning and go to the children's centre. All my classmates were from different parts of the world, but that did not bother us nor prevented us from playing, laughing and learning together. It was so, very easy for me then. I realise now that I need to keep that frame on my desk at my new home, just to remind me that working in an international environment is not as arduous as people make it to be.
On the contrary, it is an intensely productive learning environment about our common character. But then again so is health. Health and disease is a fundamental concern for all humanity. It affects us all equally, while access to healthcare for all is a basic human right. As such, the pharmaceutical industry performs a service to humanity by definition. We should not have to state the obvious and remind the world constantly. However, now more than ever, the need to engage with the community seems imperative.
I am happy I continue to work with an international team as much in a professional, as in an academic capacity. As I switch off the light, the thought that we are all the same deep down consoles me instead of scaring me.
From my personal blog 'Vagabond Shoes', posted 1st December 2012. My Mom's writing apparent top & bottom with date, location and details of my classmates. I wish I had inherited her passion for order and keeping family photoes.