It seems that the Union Flag fell from the walls of the Eurovision Song Contest venue in a portent seeming to reflect political separation.
Some omens do have constitutional significance attributed to them.
During the funeral procession of King George V, on 28th January 1936, the Maltese Cross fell from the Imperial State Crown as the cortege passed New Palace Yard on its way to Windsor and rolled down the street into the gutter. This struck some as an ill-omen that subsequently manifested in the abdication of Edward VIII on 10th December 1936.
http://www.britishpathe.com/video/the-funeral-of-his-majesty-king-george-v
Equally, flags are synonymous with signals and Royal Navy vessels signal distress by turning the ensign upside down.
In 1863 HMS Orpheus, a sleek, three-masted though engined, warship of teak and mahogany foundered on a sand bank off the New Zealand coast after following an outdated chart.
With a defective telescope the coastal signal station was unable to discern the upturned ensign on HMS Orpheus signalling distress and the delay resulted, tragically, in the loss of many souls as heavy seas broke Orpheus asunder.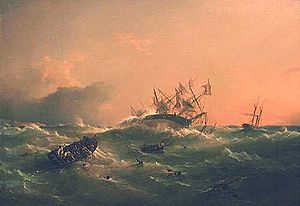 HMS Orpheus by Richard Brydges Beechey (1863) from https://en.wikipedia.org/wiki/HMS_Orpheus_(1860)