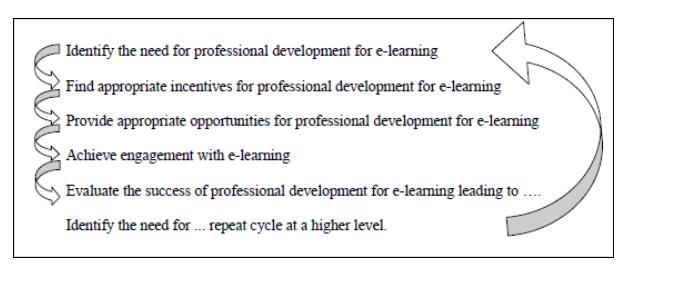 The point being that people learn a great deal that improves their knowledge and ability to carry out tasks, however this does not receive formal recognition so is not able to contribute to any professionalisation of their occupation.
Daft. The paradigm must shift. Or be ignored.
I'm spending time with a mate and colleague next week (weather permitting) who has put mobile learning into the Middle East and now has the financing to do more in 3D.
His qualifications?
A great mind and practical delivery of learning as linear, then interactive video and CD, to websites with a good deal of programming in between over the last twenty years.
There is a time to ditch the gaining of a further qualification.
Indeed, when I took up a version of this MA course in February 2001 it was for me nothing more than a piece of CPD on top of another post-graduate course I was doing in the production of cross-platform multimedia, the only person to be doing this through the EU funded programme EAVE ... all of this to feed into a full-time job producing innovative, cutting edge and online learning. I was studying at my expense to improve or tweak my practical application of all of this.
Surely the collobartive exercises of the last two weeks have shown that several people can do more than one person on their own? Why do teachers and educators operate in isolation trying to re-invent the wheel for the thousandth time when a learning experience or product shared is going to deliver something effective and fantastic?
CPD, which is the OU's MAODE, does not turn me into an e-learning professional.
I'm not interested in letters after my name; I have the M.A. and have put a couple of other post-graduate courses under my belt too.
The ONLY thing that counts is how I apply this learning.
The letters or professional tag mean diddly-squat.

All us of should be willing to be judged by our peers as to our professional status ... are we employed in this capacity? Do with have clients to serve or clients to win?
Don't get me wrong, for me this course is invaluable, a treat and indulgence, like grated Truffle on pasta.
I guess my mate and I will be back on Skype if the roads look poor. I'm not going to waste a hour of my life, let alone a day stuck in traffic on the M23, M20 or M40 trying to get to Bath on Tuesday.
My motivation? A good idea, a sponsor ... then do it.
Then pick up from what I've learnt in TV, have 26 ideas on the go with various grants, sponsors and clients supporting further development.
My next course, or refresher course?
Sales
REFERENCE. Professional Development fo Elearning. A Framework for the NEw Zealand Tertiary Education Sector. 2009.