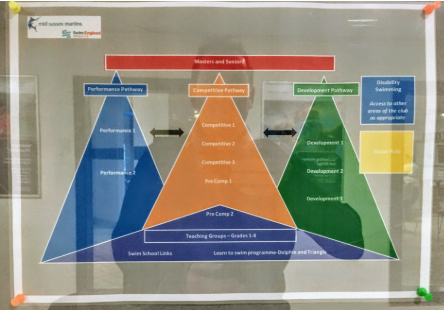 I'm back at Mid-Sussex Marlins the Sussex swimming club I joined in June 2008 and from which I have had only a couple of breaks - a year at the Open University, Milton Keynes in 2011 and the last four months as the head coach at a much smaller club down the road.
This chart could have been drawn up by me. I like to reduce things to infographics like this. 
Today I was teaching four sessions: x3 30mins and x1 45 mins, our Grades 1, 2, & 3 and a Grade 7 group. I enjoyed slipping back into the routine: getting to know and remember the name of every child during the swim, having a teenage Level 1 assistant and working through a new assessment sheet for these 7 to 11 year olds.
I was impressed to see an Olympic Trials Qualifying Times notice on the wall.
I'll be coaching too - without the head coach responsibilities.