E-portfolios from the student point of view.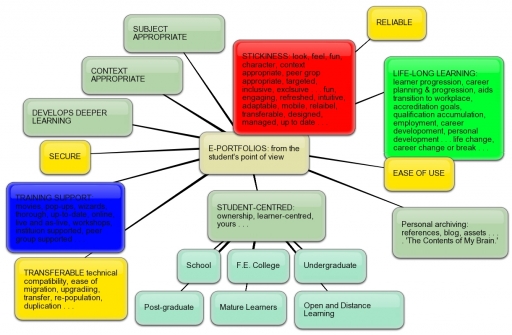 I like what bubbl.us can do. Without fuss and with a sense of fun a few ideas on the back of the proverbial fag-packet (in my case in an A5 drawing pad) becomes something semi-permanent and easy to share. Commpendium takes this one step further, allowing each 'node' to contain layers of details as documents or attachments.
Here, after some weeks of this, I try to cover every corner, literally, on the topic of 'e-portfolios for learners.'
I read somewhere a hint of why students baulk at this - their perspective, for the most part, is short-lived. Several years working in the communication of graduate opportunities it was surprising how few could look beyond 'Day One' at their place of work, to their completing their first year ... unless, as in accountancy, law and some industries there was a longer-term career training period.
It isn't just as matter of context, it's a matter of perspective.
Anything 'sticky' can as easily become unstuck.
Remember how stuck we were on FriendsReunited, before MySpace and then Facebook came along?
On the one hand a software developer makes their platform 'interoperable,' but then you open the door to users switching platforms.
What is the commercial value of free software? What is the cost? Pop-up adverts inside your' virtual head.'
If someone can exploit it, they will.
Aalderink and Veugelers.
· Focus on competence-oriented education
· Emphasis on student development
· Fostering academic maturity
·Net generation oriented

REFERENCE
Aalderinck, W. and Veugelers, M. (2005) 'E-portfolio's [sic] in The Netherlands: stimulus for educational change and life long learning' (online), paper presented at the EDEN 2005 conference in Helsinki, Finland, Portfolio Themasite. Available from http://www.icto.ic.uva.nl/surf/nl_portfolio/Publicaties/Downloads/aalderink_veugelers_2005.pdf- FOR ANALYSIS