There was a point, certainly when the industry was unionised, when you could only specialise in one function. Production teams, even for something as simple as a 'talking head' interview cutting to a presenter might need six or seven people: producer, production assistant, director, camera, assistant camera, sound, assistant sound and a runner. This doesn't even include the presenter!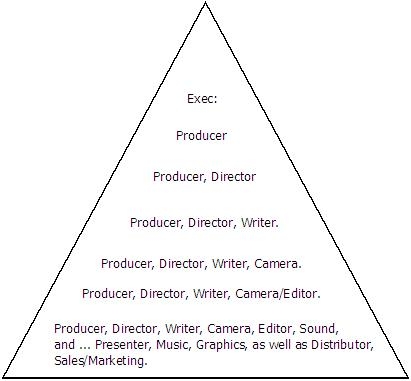 With thanks to Neil Anderson for directing me towards the Dia software.
This represents two things, a hierarchical division of roles in TV production, but also as you come towards the base the 'multi-tasking' of the various specialist roles.
When the unions lost influence in the 1980s the technology wasn't there to divide roles too much, but we settled into producer, director, camera, camera assistant and sound as the basic team. Then the producer/director roles merged. With lighter kit with fewer parts the camera assistant or runner would be dropped. Then along came the 'Video Journalist,' basically the self-operating producer/director/camera person with the sound engineer required as a second person and expected to carry kit, set lits etc: too. Meanwhile in post-porduction the editor is gradually taking on the mixing of sound, the creation of title and graphics (one a separate job/function). And then our producer/director/camera person, who can to a basic level edit using software built into the camera, takes on the editing role too - not just what we called 'off-line' editing, but the whole business to finished product. i.e. In broadcast TV, as well as for a wedding video, the production 'team' might be a one man band.
The relevance to H808 regards professionalism and the 'jack of all trades' syndrome that might see or expect a subject matter expert or tutor to have within a portfolio of skills, a growing number of other technical and craft skills. In other words, might a 'professional' be less so as and if they are expected to take on more tasks. If professionalism requires x hours of experience and y amount of technical proficiency, at what point is a subject matter expert tripped up or denied a 21st dialogue with their students because their skills with HTML are poor or non-existent?
From a TV and Film production point of view, with exception, the more roles the producer takes on the small the budget ... and the potential for amateurism.  At the base is any of us with a webcam and some basic software. In every one of these functions if you have the budget, then hire someone who has the kit, 3-10 years experience and who knows their 'craft.'