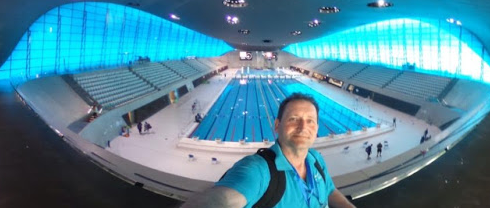 Three days, with a 7.15 am poolside start each day with some 20+ swimmers from our club Mid-Sussex Marlins. 'Working' poolside rather than just visiting as a tourist or even a spectator meant I experienced something of the buzz around competitive swimming.
8 Sessions, 7 to 20 swimmers in each. Every stroke and every distance, from 1500m Freestyle to 50m sprints. Quite a tasks to coral the swimmers onto a patch of the poolside which all the London clubs mark out with beach chairs. I had just the one. It was easy to get squeezed.
The 2 hours between warm up and a swim had many swimmers setting off for trips around the Olympic Park with their parents and then doing a poolside warm up before their race - not ideal.
Work on their underwater phase is paying off, with great distances. Often they are the last to surface and do so ahead of the pack.
All of this tied in with an Institute of Swimming 'Certification' which I have been completing on the ePortfolio 'Pebblepad' that I was first introduced to here in 2010 as part of the MAODE - it has changed considerably. It is a sophisticated, detailed Workbook with multiple test sheets and 'evidence' to be submitted - often via the App 'Pebblepocket' so that a video or audio clip, or photos can be uploaded easily. The downside is the volume of material that is easily generated and the need for both a mentor/supervisor rather than simply an assessor looking over my work.