This is the way I like it, and would have made many a regular 'job' unsustainable. I don't know that the tally is - 32 jobs in 25 years? But working freelance as one of those 'portfolio' workers I am content to put in three or four shifts: social media and website for an educational charity, a swimming club teacher and coach (one of the largest clubs in the south of England with nearly 1000 members) and a Town Councillor. This morning I was out with a representative for Balfour Beatty who look after the roads around Lewes: potholes, broken kerb stones and damaged pavements. They're on top of it: reported issues are dealt with swiftly. The Western Front Association saw 313 digital members get a PDF copy of our member journal (we have over 6,500 members, 14,000 followers on Twitter and over 40,000 followers on Facebook). And I'm off to Mid Sussex Marlins in a little over an hour to teach a group of 'para swimmers', then take the junior squad I am responsible for (keen 9-13 year olds) and staying on for our Masters - they're impressive, with multiple World Records to their name. 
And as anyone knows who follows me here the rest of the time is mixed between Markstakes Common, where there are 38 recognised ancient trees: oak, beech, hornbeam, ash and birch. I am starting a report on the additional trees that might be added to this list of 'notables'. My eye caught a dead beech stem covered in oyster mushrooms yesterday.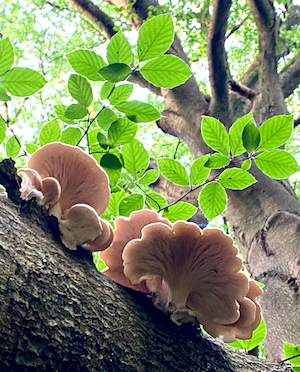 And drawing/printing/painting: once a month to life drawing at Charleston Farmhouse and once a week to BIP-Art in Brighton to print up lino prints. I'm working on a limited series of prints of a huge beech tree in Northumberland - it's a park beech in a field where my sister keeps her horses.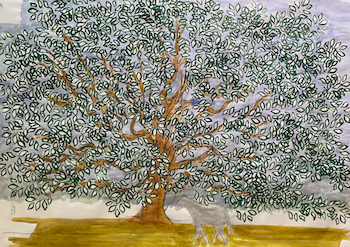 So, lots to keep me busy. And for a week we've had a family friend over from Poland. He lives in a city close to the Belarus border and reads Russian so kept us ahead of the news over the weekend by reading what he was getting from Telegram. The aircraft and helicopters shot down by the Wagner mercenaries were being reported as they happened.