EFFORT COUNTS (Creme)
Assessment of learning journals and the value of reflective writing for undergraduates and graduates using Bubbl.us to construct the knowledge map from an initial sketch on a fag packet.
With special thanks to fellow student Lesley Morrell who shared this software with us in the first place. I like it as a draft before Compendium, where I will take it next.
Available as a dowload on request ... or to share through bubbl.us.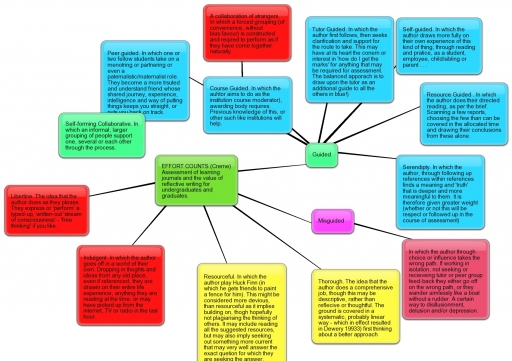 Resource Guided
In which the author does their directed reading, as per the brief. Scanning a few reports, choosing the few than can be covered in the allocated time and drawing their conclusions from these alone.
Tutor Guided
In which the author first follows, then seeks clarification and support for the route to take. This may have at its heart the concern or interest in 'how do I get the marks' for anything that may be required for assessment. (The balanced approach is to draw upon the tutor as an additional guide to all the others in blue)
Course Guided
In which the author aims to do as the institution course moderator), awarding body requires. Previous knowledge of this, or other such like institutions will help. With the caveat: 'A collaboration of strangers'. In which a forced grouping (of convenience, without bias/favour) is constructed and required to perform as if they have come together naturally.
Self-guided
In which the author draws more fully on their own experience of this kind of thing, through reading and practice, as a student, employee, child/sibling or parent ...
Misguided
In which the author through choice or influence takes the wrong path. If working in isolation, not seeking or receiving tutor or peer group feed-back they either go off on the wrong path, or they wander aimlessly like a boat without a rudder. A certain way to disillusionment, delusion and/or depression.
Collaboration as peer guidance
In which one or two fellow students take on a mentoring or partnering or even a paternalistic/maternalistic role. They become a more trusted and understanding friend whose shared journey, experience, intelligence and way of putting things keeps you straight, or puts you back on track. Perhaps more effective where the group that collaborates is self-forming. In which an informal, larger grouping of people support one, several or each other through the process. Perhaps as effective, if not more so, where someone takes a leadership role. Either way symbiosis or reciprocity may (or may not) be expected or required.
Self-forming Collaborative
In which an informal, larger grouping of people support one, several or each other through the process.
Serendipity
In which the author, through following up references within references finds a meaning and 'truth' that is deeper and more meaningful to them. It is therefore given greater weight (whether or not this will be respect or followed up in the course of assessment).
Libertine
The idea that the author does as they please. They express or 'perform' a typed-up, written-out 'stream of consciousness' - 'free thinking' if you like.
Indulgent
In which the author goes off in a world of their own. Dropping in thoughts and ideas from any old place, even if referenced, they are drawing on their entire life experience, anything they are reading at the time, or may have picked up from the internet, TV or radio in the last hour.
Thorough
The idea that the author does a comprehensive job, though this may be descriptive, rather than reflective or thoughtful. The ground is covered in a systematic, probably linear way - which in effect resulted in Dewey 19933) first thinking about a better approach.
Resourceful
In which the author play Huck Finn (in which he gets friends to paint a fence for him). This might be considered more devious, than resourceful as it implies building on, though hopefully not plagiarising the thinking of others. It may include reading all the suggested resources, but may also imply seeking out something more current that may very well answer the exact question for which they are seeking the answer.
The next step, even if the word count has been exceed, is to put it through Compendium to add underlying reports and references.
I've already had a great experience of producing a project briefing document in Compendium, sharing this withou someone several hundred miles away and then discussing it on Skype. Compendium meant that he got what is clearly a draft, a working document, the way my mind has thus far thought the project through. He could then indulge where necessary his greater curiosity by reading the attached notes, documents or reports.
The trick with this continued reflection on reflection, beyond due dates, word counts or reading lists, will be to wrap it all up at some stage, editing along the way, and if it is going to be submissable, reducing it to a 500 word count.
This has to be the eighth or ninth effort at this, forays that have yet to benefit from the kind of academic rigour and effort that will no doubt deliver an end result.
The fear is that this is like shooting an arrow at the moon, when the target is 60 yards away - clear as dandy. But this is who I am, and how I approach things. The trick is to pay me on a fixed-fee basis, because you may pay for 20 hours effort, but you'll get 60.