Every computing and IT department in a university has its own unique focus; some might pay lots of attention to the design and development of hardware. Others may place emphasis on programming languages and the foibles of operating system design. 
The OU Computing and IT degree programme places a special emphasis on the connections between computing and people. In some ways TM356 Interaction Design and the User Experience is a module that totally reflects this focus: it is all about the process of designing interactive devices and systems that allow us to address real problems that people have to face.
The TM356 Hackathon is all about design. Although a lot of OU teaching is at a distance, the Hackathon is unique in the sense that it is a face-to-face teaching event that allow students to meet with module teams and computing researchers.
But what is a Hackathon? 'Hackathon' comes from an obvious combination of two words: hacking and marathon. The hacking bit comes from the idea of creatively meddling with technology. The marathon bit means that the participants will expend quite a bit of (positive) energy doing this over an extended period of time.
In essence, the Hackathon is an opportunity to create some physical designs to some real world problems by working with other people over a period of a day. An important question is: why physical prototyping? Why not do some sketching (which was the focus of the module, M364, which it replaces)? The answer to this question is simple: computing is more than just a website; it has moved from the desktop computer and into the physical environment. Physical prototyping helps us to envisage new types of products and devices; it encourages participants to develop what is called 'design thinking skills'.
What follows is a short summary of the first ever TM356 hackathon event that took place at the London School of Economics on Saturday 4 February. In this post I'll try to give everyone a flavour of what happened. I'm writing this so I remember what happened, and also to give other TM356 students a feeling as to what might be involved.
Introduction
The day was introduced by module presentation chair and Senior Lecturer Clara Mancini. Clara said that an important aspect of interaction design is collaboration. The Hackathon event enables different students to work together to gain some practical hands on experience of prototyping. This experience, it is argued, can help students with their own TM356 projects and help them to prepare for their tutor marked assignments.
There were three key parts to the day: a tutor led discussion about projects, a series of short presentations by researchers, and the actual hackathon workshop where everyone works together on a specific theme. The event concludes with a tutor led discussion about how students might begin to tackle their assignment.
Project discussions
Since there were nearly thirty students, we were all split up into different tables to begin with our 'project discussions'. During the module students are asked to create a prototype design for an interactive product. An important thing to note is that an interactive product doesn't have to be a website: it could be anything, since interaction design and computing is gradually moving away from the desktop and into the environment.
The table that I sat at had some really interesting project ideas: a system for an improvised comedy group, a mobile friendly design for a government website, a remote control for people who have physical impairments, a tool to log and scan documents, and a navigation and route planning system. 
Looking at research projects
A number of OU research assistants and research students were also invited to the Hackathon. Their role was to share something about their own interaction design research projects with a view to inspiring the Hackathon project work. Researchers were sat at different places in the Hackathon room. Students were invited to meet the researchers, who were either working on their doctoral work, or on post-doctoral research contracts, to find out more about what they were doing.
There are two projects that I remember: one was about the creation of digital prototypes using electronics and cases made using 3D printers. The second project was about electronic fabrics or electronic textiles (e-textiles, Wikipedia), which could form the basis of wearable computing platforms. We were shown a camera that could be worn as a necklace, and a device that hospital patients could use to make subjective measurements of pain.  The electronic textiles were used in a research project about how to motivate groups of people who have special educational needs.
The Hackathon
The theme of the Hackathon was: 'wearable technologies for health and well-being'. We were encouraged to think about the different ways that the term 'well-being' could be considered. We were also encouraged to think about issues that might affect wearable technologies, such as: demands on comfort, how we might pay attention to a product or a device that is worn, how it relates to the environment or the activity that we are engaged with. There are also practical issues to consider, such as how to organise input and output, cleaning and charging.
All the students were given access to a range of prototyping materials: this included card, paper, coloured pens, pipe cleaners, string, as well as some basic electronic devices, such as Arduinos. Marian Petre, a professor in the department made the important point that it wasn't about the end result, it was about the thinking and the decision making that led to the creation of a prototype.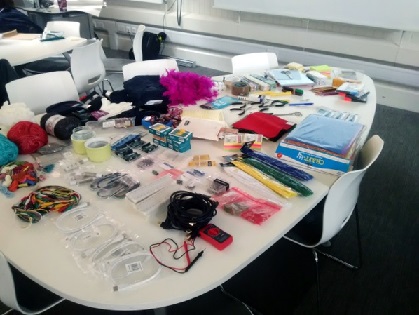 As a short aside, any student who has taken an OU module called U101 Design Thinking: creativity for the 21st century (Open University) would be familiar with some of the design thinking (Wikipedia) ideas and skills that the Hackathon and the module team were trying to expose and develop.
All the students sat in tables with either a tutor, researcher, or module team member. To get everyone going I suggested that the group should try some 'divergent thinking' before going onto doing some 'convergent thinking'. To put it another way: we brainstormed what was meant by the terms 'wellness and wellbeing' before choosing a topic and exploring it more depth. When we had settled on an idea, we then went onto building a simple physical prototype.
Of course, our prototype didn't doing anything: it was all about understanding the broad concept of use, and understanding the design goals and trade-offs. During the process, we would also uncover requirements and learn more about the potential user, the activity, and the environment in which the product would be used.
Presentations
At the end of the design activity all project groups were asked to make a short presentation about their prototype.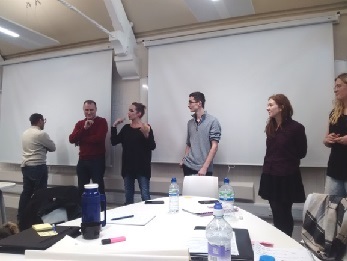 I'm not going to say anything about what each project was about since I wouldn't want any of the design to unduly influence any thinking that might go on within any future events. Instead, let's just say that the projects had very different objectives and they were all brilliantly creative.
Final points
Towards the end of the Hackathon and just before everyone got stuck into going through the third TMA (which was all about design), I noted down a few points that were made by the module team: the point of making makes you become aware of issues and limitations; you begin to think about electronics, materials, size of products and the environment. Design thinking is relating to uncovering the needs of the users and starting to think about practical issues. The design process is, of course, iterative. In the process of design, the prototypes become objects of communication.
The face-to-face Hackathon is complemented by a series of three online events that aim to address similar issues. The first online session presents the idea of a conceptual model and allows students to discuss prototyping approaches. The second online session enables students to speak with one another about their projects, and the final session explores different interface types. Rather than being equivalent to the face-to-face Hackathon, these sessions can be considered to be complementary; similar issues are discussed and explored in different ways.
If you are a student studying TM356, I hope this short blog post gives you some idea about what it is all about. I also hope that it will inspire you to attend the session. There is a lot to be gained by coming along!
Acknowledgements: the Hackathon was designed by the TM356 module team and run with help from research assistants and doctoral students from the School of Computing and Communications. Special thanks are given to and associate lecturers who play such an invaluable role and all the students who came along at the first TM356 Hackathon.