The Science and Technology people at the Open University are hosting a 2nd Waste and Resource Management Conference, and calling for submissions from anyone who would like to present. Some of our DD102 and DD103 students over here in the Faculty of Arts and Social Sciences might consider giving it a go, as both modules include ground-breaking material on waste management - as well as supporting study skill development towards academic writing and presentations 
I planned this blogpost a while back, to coincide with DD102's week of study on 'Throwaway society? Waste and recycling'. I belong to a Litter Action group on Facebook and, partly inspired by DD102 materials, I thought I would write about litter as art.
(Look!
what I found on the beach. And when walking in the woods one day, I came across a discarded ladder.)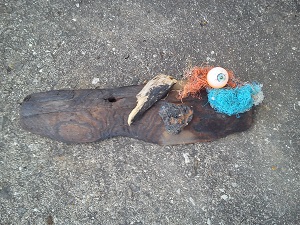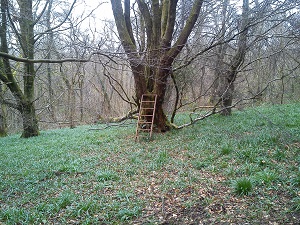 What if famous artists picked up litter and made it into art pieces? What if we all started to make our own art pieces out of litter and rubbish? Would litter become precious? Would we see it differently and no longer throw it away? I thought writing this up might help show how relevant the module materials on our Level 1 Social Science teaching are.
They didn't need any help! In the last couple of weeks, so many things happened that were relevant to DD102 and DD103 that I could hardly keep up.
People often look puzzled and even disbelieving when academics talk about research. It can sound so blue skies that it has gone round the moon and become loony. However, ten years later you can see how the research has mapped out events which have unfolded in the meantime - except that people have usually forgotten we academics were blathering on about it back then, and we are onto something new now.
The modules at the Open University are informed by this kind of research so that during the eight year lifespan in which they teach out, events often unfold which are uncannily relevant to our studies.
A big example has been the sudden upsurge of interest in rubbish and litter. Not only did DD102 start teaching about this back in 2014 when it was first written. DD103 materials had a whole section devoted to the life of David Attenborough, and his contribution to what we call a developing 'environmental imagination'. We have an exclusive interview with him - made three years before Blue Planet came out and we all suddenly started refusing to use plastic straws (warning - this can give you a serious moustache when drinking an iced frappé).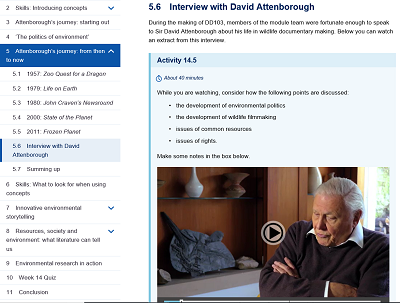 Another example: as the injustice towards the Windrush Generation unfolds, we are reading on DD103 about the ways in which political campaigns in 2013 created a hostile environment towards immigration, and towards black British people.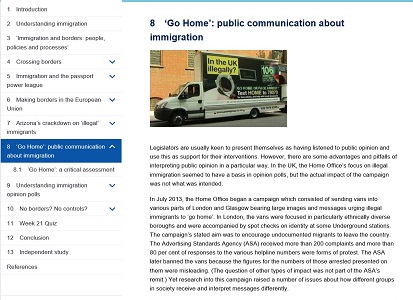 We are not supposed to admit that we teach Economics on DD103, in case it frightens the horses. However, the horses need not be alarmed. The Economics we teach is not Economics as we know it, Jim
. A couple of years ago, I saw an article in the FT Weekend describing how Economics students at traditional universities had engineered a revolution. Fed up of being taught Old Guard Economics in a style which the failure to predict the enormous financial crisis in banking had made clear was irrelevant to our daily lives, these students were demanding an Economics about ordinary people. I wondered if any of this new cool Economics might be brought into our teaching to support the bits of Economics we are doing. As I read, I realised we had already started teaching the whole module on this basis. London School of Economics, eat your heart out
Open University module design is mobile, light-weight and responsive to intellectual change - even at the level of paradigm shift. It's done by teams who draw on the latest expertise in the field. 'Bricks-and-mortar' university teaching is often designed by individual junior academics. (Senior academics 'buy' themselves out of teaching to undertake funded research projects.) At the Open University, we use material from the internet and online media: TED talks and clips from the BBC to stay in touch with the zeitgeist. This model allows us to stay ahead of the game and deliver the most relevant learning to our students.
I'm not sure the students realise what a good deal they are getting, especially given that they are paying a fraction of the fee that they would pay at a traditional university. That's OK. We want to give them an edge in life, which most of them have never dreamed of having - coming from the back of the educational queue as our students often do. Because our students have been disadvantaged in their previous education, it's good that we can level the playing field by providing them with cutting edge learning later on.