As a keen gardener, I've always been aware of the Royal Horticultural Society's glamorous Chelsea Flower Show: the pinnacle of gardening aspiration. Although I did go once, a long time ago, I think I prefer watching it on tv. It was crowded even then; it's easier to see the gardens from the viewpoint of cameras actually inside them. 
Part of the BBC coverage involves a 'people's choice' for best garden, [voting now over!]. My actual favourite garden is The Perennial Garden 'With Love'. However I am going to vote for the Hands Off Mangrove by Grow2Know garden. This isn't in a knee-jerk way, to support the Black garden. This garden represents the future I would like generations to come to grow up in. I'm writing this blogpost to encourage you too to vote for Hands Off Mangrove. Even if you don't care about gardens - click on the link and vote for the future. 
The Perennial Garden 'With Love' by Richard Miers (@richardmiers on Instagram) is a return to formal garden design, with playful touches. Its model is the arty witty Laskett Gardens, now the home of the charity Perennial which supports horticultural workers. 
In recent years, Chelsea show gardens, gardening tv shows and garden centre sales have been dominated by loose informal planting and the drive to encourage wildlife through letting it all hang out (dried seedheads and weeds, that is 😳). I was delighted this year to find wildflower plant plugs on offer in my local garden centre, since I know it's illegal to dig up wild plants out in the hedgerows and stick them in the rewilding bit of your garden. (And when a seedhead has happened to fall into my pocket, it has been incredibly difficult to get it to germinate! compared to putting a plant plug in and allowing it to self-seed.) 
In previous years, Chelsea show gardens were architectural and formal, with clipped trees and clean rectangular stone-edged pools - usually sponsored by some big Bank. Gradually the wet and the wildness, the weeds and the wilderness - as Gerard Manley Hopkins put it in Inversnaid, have crept and spread through these spaces enjoyed by the rich and famous. 
The last couple of years have seen a more rapid social shift at RHS Chelsea, with Banks receding into the background and social causes coming to the fore. Mental health and wellbeing were early harbingers of a new focus on gardens as social phenomena, this message going mainstream during the pandemic, when an estimated 3 million in the UK took up gardening. (Only garden centres were open, one newbie gardener featured on Gardeners World reflected, so I had to go there to shop.) 
This year, the Hands Off Mangrove garden (designed by Tayshan Hayden-Smith, @ths62 on Instagram, and Danny Clarke, @theblackgardener on Instagram) brings racial justice sharply to the forefront, in a showcase event which has been a traditional preserve for those at the highest levels of society. Even the Queen comes every year to RHS Chelsea. I would like to be able to say, this shows that society is shifting towards a time when we might not see a Black schoolgirl strip-searched by police, or a Black schoolboy losing a finger trying to escape from bullies. However, I know it seems like a sticking plaster on a festering sore - virtue signalling by a wealthy white elite who control RHS Chelsea, Banks and much of our lives. 
NB - the Hands Off Mangrove garden is about global deforestation as well as social injustice. The garden designer Cleve West (winner of many Chelsea medals), has commented that blue tits were seen flying around its hedges - they were picking caterpillars off for their chicks. Chelsea gardens are normally manicured to perfection, with the bugs and crawlies we are supposed to encourage for wildlife cleaned off to show the judges a pristine garden. Cleve West urged them to see this real life wildlife in the Hands Off Mangrove bushes as a plus, not deduct marks for it. 
(Pictured here, my vegetable patch, or 'potager' - ornamental edible flowers and vegetables grown in a decorative way. Tall plants and metal obelisks give the garden structure.)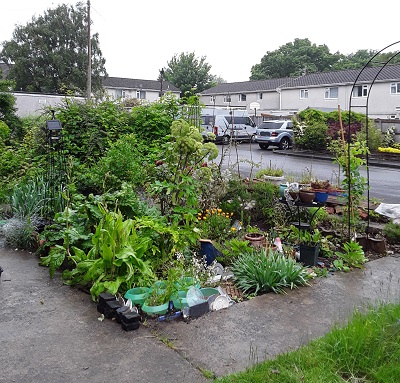 Personally I did like seeing a return to the formal design represented in The Perennial Garden 'With Love', its explicit reference to Victoriana and the poetry of Alfred, Lord Tennyson. I grew up visiting gardens with my mum, and inherited her books about Italianate gardens where roses gracefully soften the lines of stone ruins. Like many immigrants, mum carefully studied and reproduced English style in her life, particularly in creating her elegant garden. I favour a loose informal planting style myself, however seeing Richard Miers' garden made me realise how I prevent this becoming just a plant-y mess by using a framework of formal structures. 
The Banks and businesses may have retreated into the shadows at RHS Chelsea, but they have seen huge profits during the pandemic. Their discretion is about self-protection more than respect for those who have suffered and struggled. In the wake of Partygate and revelations about the non-domiciled tax status of government Ministers, nobody wants to have the spotlight turned to their greed and selfishness - causing us to realise how much privilege and power they enjoy, and what that costs ordinary people. 
Showcasing a garden that highlights and celebrates the fight for racial justice fifty years on is a small concession, maybe it is just intended to be virtue signalling. However it moves that struggle into the mainstream. To use my favourite figure: Bourdieu's sketch of doxa, it enables the struggle for racial justice to come out of the 'universe of the undiscussed' and allows it to be heterodoxy. Our thinking about racial justice can then engage in argument with the 'normality' of orthodoxy, on more equal terms. (More equal - not 'equal' yet.) 
(Illustration of the 'field of opinion and doxa', Bourdieu 1972/1977, p. 168, downloaded from Researchgate.)
I'm tempted to vote with nostalgic and whimsical pleasure for the Victorian gardening style I like. It's only a garden show! But with the eyes of the rich, the poor, global minority and majority audiences on primetime tv showcasing of gardening for fun and for food, I'm going to vote for the argument for racial justice and re-forestation to get a bit more time in the sun.