Personal Blogs
Mary Follett (1868-1935), classified three ways of dealing with conflict.
Domination - The imposition of one party's view on all the other parties.
Compromise - Often a degraded outcome, the best that can be agreed by all conflicting views.
Integration - An outcome where all desires have found a place.  
Peter Checkland, uses two terms.
Consensus - Where all parties agree
Accommodation - Where all partiews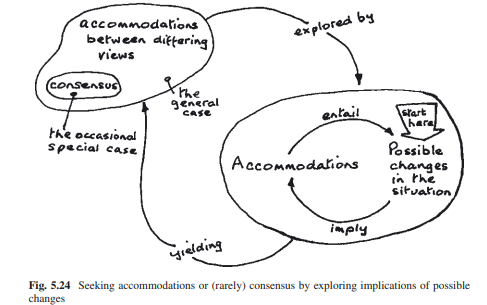 I prefer to view the terms Consensus and Accommodation to mean the following.
Consensus - All parties vote on a set of options and the majority choice is selected.  Subtly different to compromise, in that a consensus will leave a range of outcomes.  Some people may be dissatisfied, others satisfied.
Accommodation - Slightly broader than integration, in that is seeks a 'good' outcome for all, rather than the optimal outcome.  integration is where everyone gets their way, whereas accommodation has everyone getting a result they can be happy with.
Additional Conflict Resolution Outcomes
Indoctrination - Where parties believe they have what they want, but unaware that they would have chosen differently had their thinking not been influenced by indoctrination.  
Dynamics of Conflict
Irrespective of which definitions are preferred, or how they are understood, the dynamics of conflict will always be present.  The environment is always changing.  Problematic situations will always be in flux.  Consequently, conflict will never be solved indefinitely.  Nature has to have oscillation between bi-polar points on a spectrum.  This means that even if a consensus is reached, humans will begin to forget the original problem their ancestors solved.
 "If forgotten, history is doomed to repeat itself."  
This blog might contain posts that are only visible to logged-in users, or where only logged-in users can comment. If you have an account on the system, please log in for full access.
Total visits to this blog: 4375