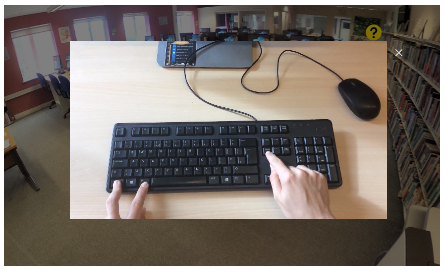 Using ThingLink to create a simple, clickable, 360° tour of the Learning Resource Centre (LRC) at one of our 5 sites at GB MET for SEND students (Special Educational Needs and Disabilities) I simply shot this clip on an iPad, which uploaded to my Google Photos album. I could have edited but had no need to do so. Labelled and downloaded I simply added the clip which can play on a loop until the user clicks away. I clicked on a microphone 'audio' button and added a simple commentary and we're done.
What I did find however, is that using the text box with a video clip sees the clip severely cropped. Next time I will also shot some far wider frames, possibly with a bias to the right hand side of the frame, so that the automatic cropping complements the video playback rather than rendering it useless - It is hardly good practice to show someone the need to press the Ctlr, Alt and Delete buttons together if you can only see one button. The SEND students I am advised have the mental age of children under the age of 10. 
Here's the link to this frame : https://www.thinglink.com/video/1244289378725920769 

What do you think?
How might these be used?
Health & Safety training and tours of college workshops?
Visits to distance building sites?
Underwater interactive tours of underwater cave systems?
What happens if you shrink to the size of a pea and are then accidentally swallowed?