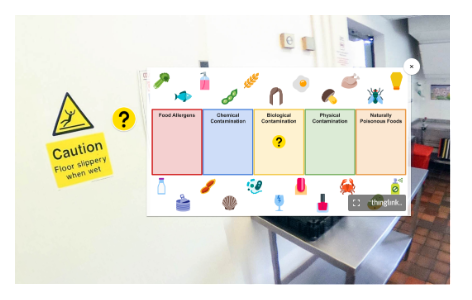 Eons ago, perhaps 15 years ago, certainly 10, Jilly Salmon coined the term 'e-tivity'. It never caught on, though I feel compelled to use it rather than 'interactive activities'.
This is what we have here. 
It is a set of 10 to 16 simply catering food safety and hygiene related execrises spread across a 360 tour of some 12 or more images around a teaching catering facility.
My First Goal is to add, number and annotate a set of these etivities to a 360 page.
My Second Goal is to spread the etivities strategically across the full 360 tour with Voice Over and text instructions.
My final goal is to add VO to edit video clips to provide 'how tos', hints and insights.
Activities design and built by Mia Pledger, 360 tour created by Jonathan Vernon.