Love this. My PDP thermal. It works.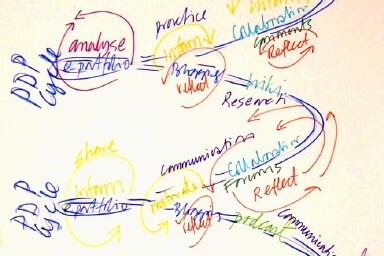 It works because everything hangs onto the concept without being shoe-horned.
I want to run with is as my philosophy for PDP and do someting whizzy with it as a video, animation, conference opener or something. I'd like to think it could capture peoples' imaginations, which is just what you want if you are going to motivate them to be the best they can be, so that their team can be the best they can be ... and in turn the business can be the best that it can be too.
If this is clearer try it in the long-shot.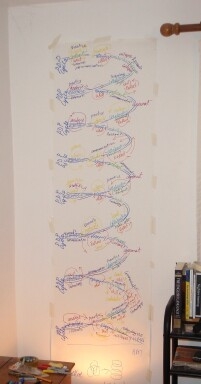 The upwards rotation, like a glider riding a thermal, is akin to a person's PDP ascendency.
What drives this, the enery as it were, is their motivation.
Tap into this and everything else will follow.
Though the timings for PDP to occur, or for self-assessment and needs analysis should be varied and applied as required, rather than becoming onorous and regular, it should nonetheless happen. This is in effect when our 'glide' banks and turns (yaws?). If following a glider in action then there varied loop/cycle sizes would be easily accommodate within the idea.
Around this mistral I have added various standard e-learning tools, which I would rank in importance. Such ranking would/will vary by person, by platform, by subject matter, but I'm certain that blogging and forums are up there as far more important than anything else in terms of engagement, collaboration and effectiveness.
BloggingAs you can see I've put in:
I've wrapped 'motivation' around the edges like those 'go faster' agitation marks you use in cartoons. I'll redraw it all now that I have some time to beautify and develop it further.
Around each of the above e-learning tools there are micro-loops (loop the loops even), where I've added (all colour coded by the way), things such as reflect, skill, communication, technology, reseach, analyse and so on.
Collaboration and communication are ever present as continual themes (or thermals) currents that should be ever present.
What else?
Share
Lead
Inform
Critique
Assessment
I can work with the logic, keep it simple, and adjust accordingly.
Podcasts are a form of blogging, whether audio or video, as well as resources/assets in their own right.
Skype, email, TXT, Messaging ... and even 'face-to-face' communication (what's that?!) have been included.
This, in an image, is what I do.
Files of research and work, days of debate and deliberation, playing around with ideas then the pressure to sum it as succinctly as possible.
This, turned into animation, or video ... i.e. rich media, is what I do to.
I hear Michael Nyman. He's permited me to use his muix before. It has pace, it is querky and challenging, and exciting ... and repetive, and driven and motivating.
And for a voice?
No one's offered me a budget yet.
£40k for a ten minute jaw-dropping conference opening extravaganza.
£500 and you get me in front of Sony Cybershot stills camera, my son's collection of Sharpies in one hand, a sheet of wall-paper backing paper taped to the kitchen door.