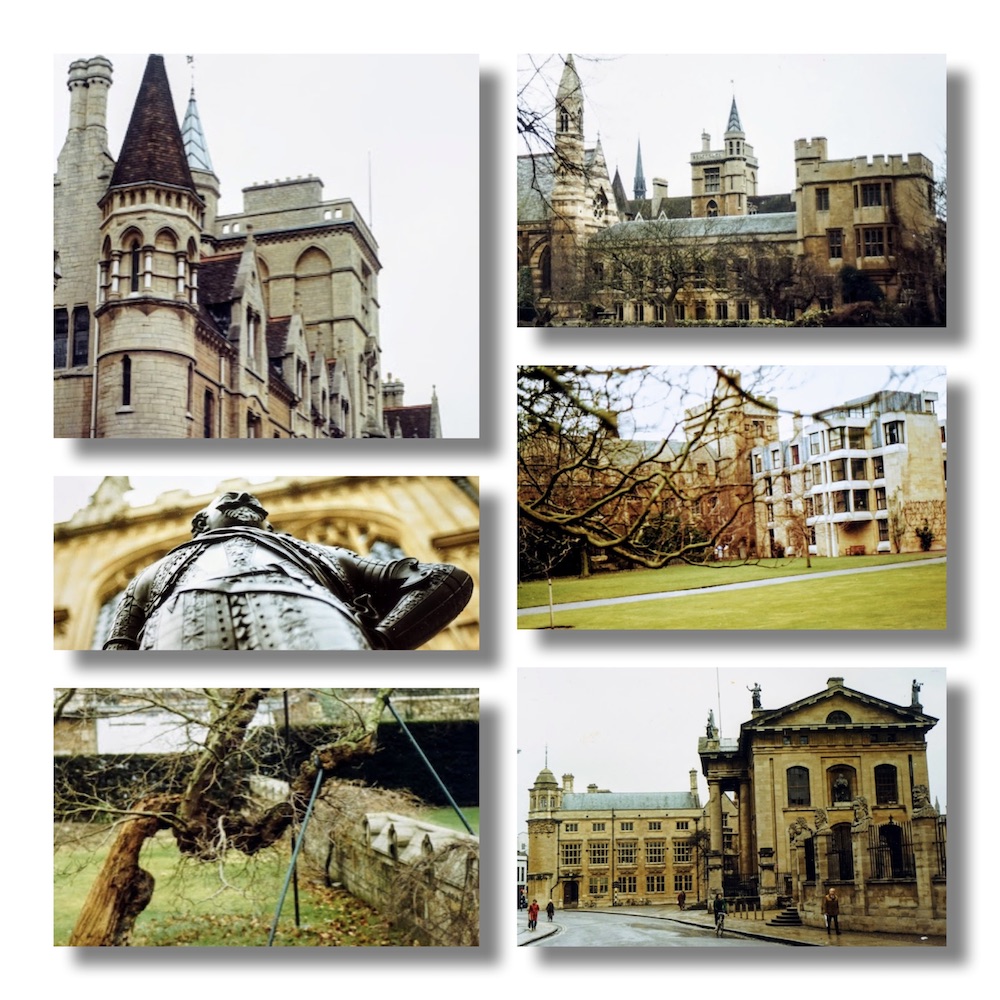 40 years ago, on the 11th and 12th of December 1980, I attended interviews at Balliol College, Oxford to study modern history. The photographs above are the ones I took and later stuck into a scrapbook. 
My mother drove me down from Newcastle to Chipping Camden to stay with her long term boyfriend; my parents had separated and then divorced ten years eariler. According to my diary my material grandparents were with us too. The cottage in the Cotswalds was tiny.
The next day my Mum drove me into Oxford and dropped me at the entrance to Balliol. I had a rucksack, an acoustic guiitar and a pair of skis. I felt like a traveller who had got lost.
I must have gone to the porter's lodge, must have been given a key to a room. I can't recall where it was - staircase 11 to 15, one they set aside for the conference season.
I had two interiews and may also have met my 'pastoral tutor'. The first interview was on the subject I was hoping to study. We discussed Henry VII and then the Reformation. We'd not talked much at the RGS during class - it had been more a case of take notes, write the essay, learn stuff and make sure its in your head by the time of the written exam.
I had plenty of time between interviews; I do not recall coming across any other students at all.
I wandered over to the Sheldonian and Bodliean and took photographs with my Minolta. I must have eaten in hall. The next morning I want to the Ashmolean Museum opposite. Then I had a second interview. Once again there were two tutors. This was a general interview. I spoke about acting at schools and the People's Theatre: the Caucasian Chalk Circle and The Dracula Spectacula! 
I took myself down to the Station for the train into London. I made my way out to Brentford Docks where my father had his London flat then. This may have been my third time ever to London and the first time travelling alone. I stayed with Dad. Did we eat out in town? Did he introduce me to his girlfriend of that moment? His view of my song writing efforts were that there were 'too many words'. I take it he didn't like my singing, my voice, my playing ... that's Dad for you.
The next afternoon I took the train from Victoria to Folkestone and got the ferry across to Calais. I made friends with a girl my age and a young couple. The crossing was rough and this girl, Paula and I loved every moment of it, even when a vending machine broke loose and slid across the deck. I had her name, but no number. We were just young people pasing through.
Across Paris with my clobber by bus; skis and guitar. And the night train from Gar du Nord. Onwards to Bourg St Maurice, to Val d'Isere, the Hotel Sofitel and a job immersed amongst French 'seasoniere' where, in a Marks &  Spencer grey suit I was the 'day porter, English speaking, snow shovelling, breakfast delivering errand boy'. 
University life at Balliol eventually began in October 1981. A close friend from those days died a month ago. Life's short - embrace it.