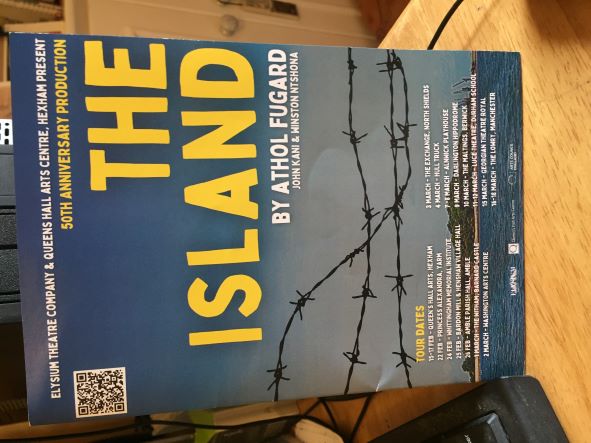 At the start of March I had the opportunity to see a touring production of 'The Island' at the studio theatre at Hull Truck, I made a few notes on the production which was by the Elysium Theatre Company. Really excellent performances by Ewen Cummins as John and Daniel Poyser as Winston. 
I've included a few production stills below to give a sense of the stage setting and design. The outline of Africa in the cracks of the cell wall with a darkened South Africa looks so obvious now on the photos but came as a real surprise when I eventually spotted it for the first time during the performance!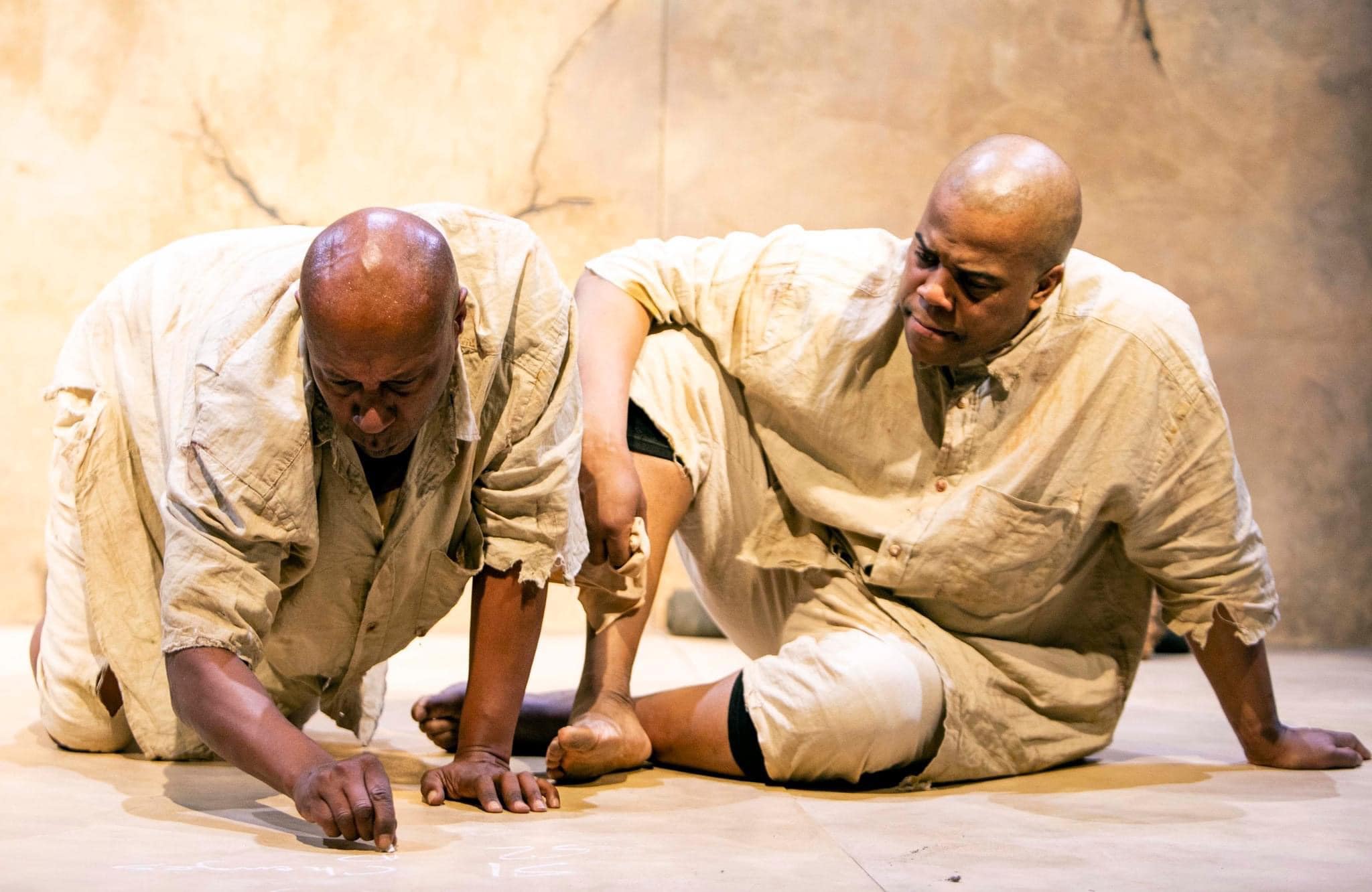 John (L) outlines the plot of Antigone to Winston (R)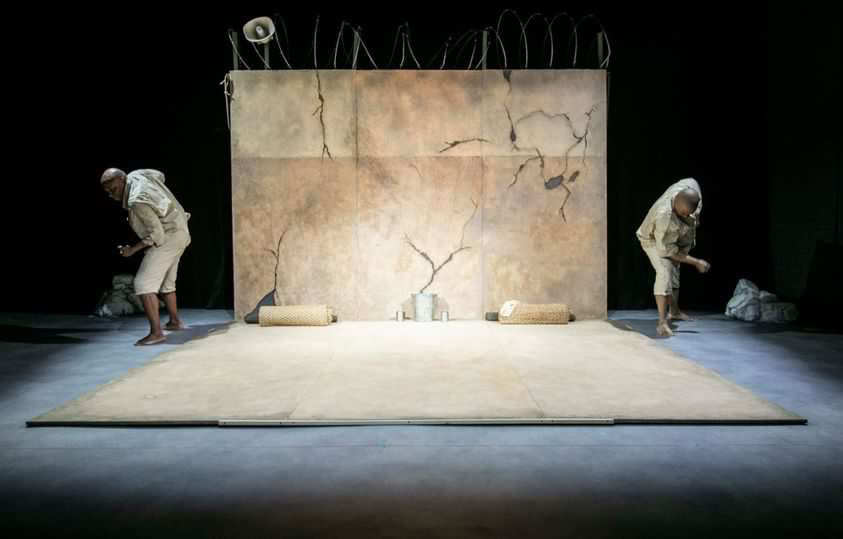 Set design and the opening mime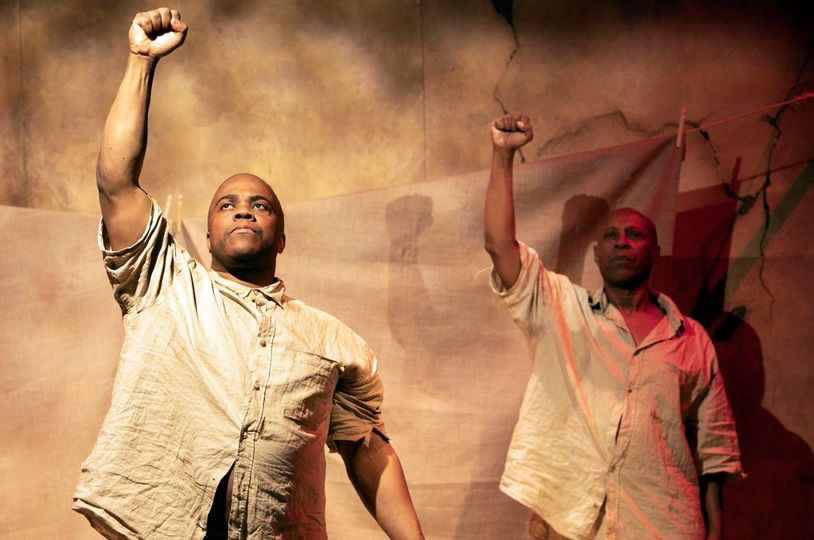 Winston and John in the final moments of the play, just before they are re-shackled

There was a bit of contextualising for the play arranged around the performance - there was an audio-loop running in the background as you entered the theatre, it was made up of what sounded like apartheid era newsreel clips, these were short and seemed to present multiple perspectives i.e. some supported the policy, some did not, these were edited as though tuning into different radio stations. I've copied the programme details below and highlighted the one explicit comment made in the programme by the company on the 'meaning' of the play in the current era.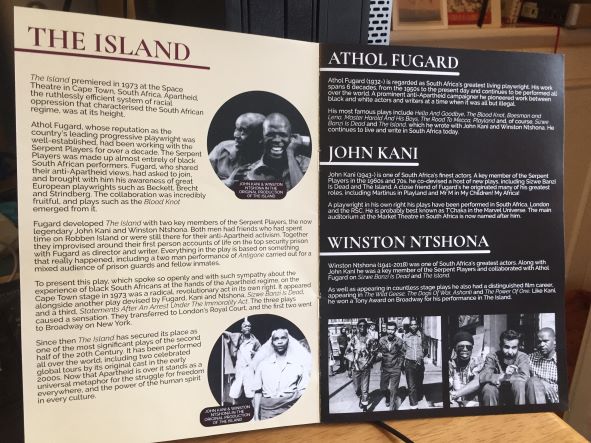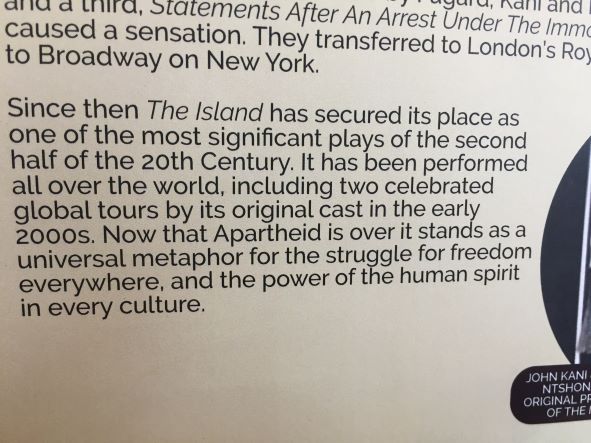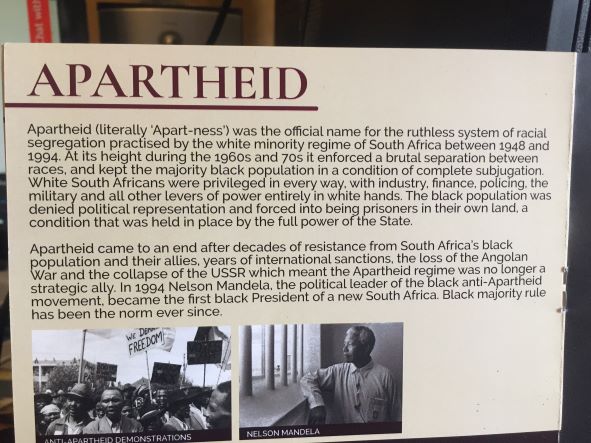 One detail that I wouldn't have picked up on at all (or at least would have thought differently about) if I'd not skimmed the A111 chapter beforehand... in scene one (page 78 of the A111 book) when John briefly pretends to be an actor 'George' playing King Creon in a production he had seen - the actor did it in what was clearly an imitation of Nelson Mandela (who I now know, courtesy of A111, played Creon in Antigone whilst on Robben Island). I thought that was such a clever way of linking together so many things about the history of the play and the history of South Africa. 
The audience was almost entirely middle-aged, which probably just represents a theatre-going age-group - but did make me wonder if it was a 'nostalgia' for causes of our youth as much as engagement with contemporary concerns or drama that had attracted people? (I don't think it was made up exclusively of OU students and tutors!) It was an exclusively white audience, one of the other things that will have changed so often as this play has been performed in different settings since 1973 and interesting at the point in the play when the 'audience' is part of the drama.