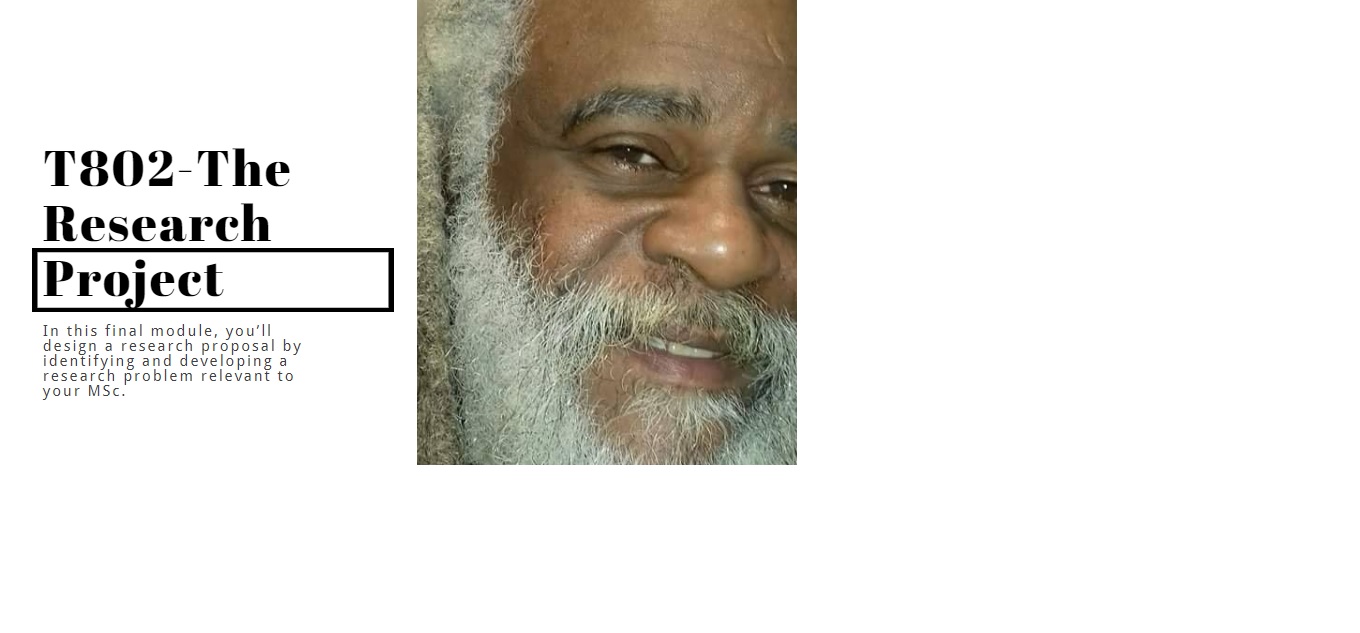 One would have thought, that after 6 years of being a mature, long-distance, undergraduate of the Open University (OU), which culminated with a BSc (Hons) Computing and IT in 2016, that at my age, 50+ that  I would have had enough of spending my hard-earned earnings, studying books, contributing to online forums and writing up exams. To the contrary,  after spending some quality time in deep reflection, I came to the conclusion, that a postgraduate qualification would be in my interest.
Here in the UK, I was also eligible to secure a postgraduate student loan to help with the costs, so discussing all with my wife,  I decided to take the plunge.  The Bible says, that an double-minded man is unstable in all his ways. (James 1: 8-10). Fast-forward to 2018, I have already completed 4 of the requisite modules along the MSc Technology Management  pathway, and here I am at the final hurdle: T802- The Research Project. T802 basically is a 60-point module, which is the longest duration of a module that I have read since beginning my academic journey with the OU.
The course runs from February  2019, all the way to April 2020. There are 4 tutor-module-assessments (TMAs), which is customary with the OU, but unlike all other modules that ended with a substantial piece of work, called a project of between 2,500-300 words,  T802, culminates with  a dissertation of no less than 10,000 words and no more than 15,000.
If you have been following my previous blogs here, you are perhaps familiar with the story of my journey at OU.  I decided to launch this particular blog to celebrate my graduation in 2016, to continue to write my reflections on issues and concerns to me in the computing and information and technology genre. You can have a look at past pieces published in the archive. Some are rewrites of projects that I have submitted for past modules throughout the years. While others are my musings on issues that I am concerned about. Below, is taken from a project  I completed for T848, Google's Self Driving Car Project: A Critique of its innovative technology transfer strategy.
Google's Self-Driving Car Project's technology road map 
However, writing project logs, keeping copious notes, and contributing to wikis has always been a part of  OU academic life, but blogging really came into its own with studying TU812-Managing Systemic change: inquiry, action and interaction. Which was an excellent introduction to systems thinking. Writing a blog, was an integral part of studying this module.
The module team for T802,  have again encouraged postgraduates to keep a 'Research Diary.  Hence, the launching of this new series of subjects: My dissertation Research Diary.  The choice of what form our diary should take was left entirely up to the student. So being a blogger, a published author, former journalist, a seasoned OU student and generally someone who enjoys a good writing challenge,  I decided to use my wordpress space as somewhere, where  I could discuss my thoughts and findings  about my preparation for the dissertation.
In addition to all the  other avenues available to me to bounce off ideas with other students in the forums or discuss issues with my supervisor,  I consider this is a valuable tool to revisit my past postgraduate modules, namely:
These subject fields are important because, the topic of the dissertation is to be based on the core modules studied for this qualification.  In my case, the compulsory modules for the MSc- Technology  Management were,  T848 and T849. TU811 and TU812 comprising of my postgraduate diploma.
In closing, suffice to say, the task of preparing for this capstone module began many months ago. I am looking forward to bringing my experience of my undergraduate work, and my postgraduate thus far, to this research project.
In my next entry in my diary,  I will be exploring the context of my chosen research idea.  Consequently, you are invited to join me in this challenging, but exciting journey. Feel free to join in the discussion. Ask questions, write comments. One of the aims of a dissertation according to The Open University is that your findings must be of relevance to the wider scientific community, and be of interest to other stakeholders in your chosen sector.
Have a great day!
Hon Natty Dread
Reference