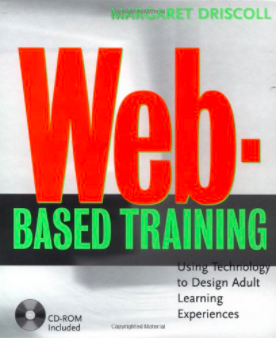 To my horror, curioisty had be click on Order History in Amazon (actually it  was simply to locate a book that got sent to the wrong address). To my surprise I found that Amazon has a total archive of everything ever purchased. This takes me back to 1999. I thought I'd first gone onto Amazone 2000 when I bought books for everyone. 

Web-Based Training had me thinking of moving out of 'video based training' which I had done very successfully for the best part of 13 years. I'd already produced a few interactive DVDs: something for independent financial advisers paid for by Standard Life bank in Edinburgh comes to mind.
The following March (2000) I moved to Brighton to work for Worth Media as their 'Digital Editor'. The year after, February 2001 I started the MA in Open & Distance Learning with The Open University. If only I had completed that module, if only I had overcome the challenges of Worth Media having to line up a lot of staff to make redundant and got myself out of the firing line ... if only.
Never mind. I've learnt many life lessons and as a friend says, "it isn't over yet" and as my wife says "you've still got plenty of time". 
I'm not going to direct that drama series or win an Olympic medal, but I might produce or associate produce some drama, could sail single-handed across the Channel ... even pursue an PhD in education at the University of Sussex.