Open University students usually have lives with many responsibilities, and we recognise that in creating a more flexible assessment system. Our assignments are graduated rather than coming in one lump at the end of a term/year. You can also usually negotiate an extension on assignment deadlines if you experience difficulties which impact on your studies. 
NB - there is NOT usually any extension offered on the final piece of work on a module, often called the End of Module Assessment. Plan your studies to make sure you can work on this in a timely fashion. If you are experiencing difficulties as you come to the end of a module, make sure that you contact your Student Support Team for advice, and put in a claim for Mitigating Circumstances. 
Your tutor will be able to talk to you about extensions on your Tutor Marked Assignments (TMAs). We are of course keen to make sure you don't fall behind in your studies, so you should not assume you can just have one for the asking. 
You can contact your tutor via a link on StudentHome, or just drop them an email. Explain why you want the extension and how long you think you may need. Be realistic and reasonable about this. A day or two is very acceptable, a week is fine. If you are going to need more than a week, you will need to have a serious and good reason. (Anxiety about deadlines is a serious and good reason, however you should also make sure you have got good support so this doesn't become an ongoing problem if you suffer anxiety - your Student Support Team can help with this.) 
You won't need supporting documentation for an extension on a TMA, but you will if you apply for Mitigating Circumstances for an EMA. 
Try to let us tutors know in good time. You can ask for an extension just in case, you don't have to use it. 
These are the suggested reasons given when we enter your extension in the system.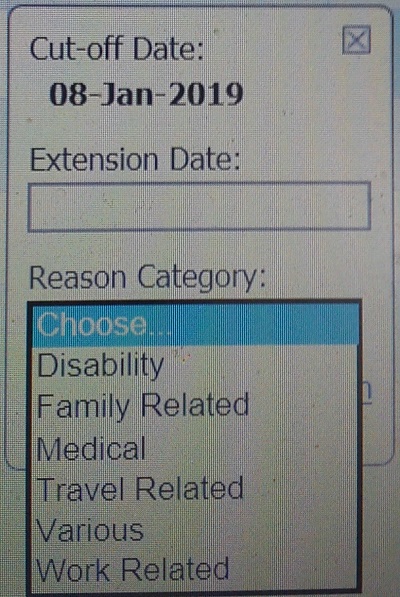 Here are some examples of how I would input information provided to me with a request for an extension. Depending on your tutor, you may like to translate for them into appropriate terminology. For example, 'Can I have a week's extension as I have to travel to France during the week of the TMA deadline', rather than 'Yippee! my whole extended family and I are going on a WiFi-free trip through the Loire Valley, so my TMA is going to be late.' (Actually if you are going on holiday, your tutor may suggest you try and plan to get the TMA in early 
)
DISABILITY - your additional learning need means that you require a little longer to prepare your assignment (anxiety would fit here). 
FAMILY RELATED - your children had chicken pox, there was a major family event which disrupted your studies, the family guinea pig had to be rushed to the vet and nursed through the night. 
MEDICAL - you had chicken pox, or flu. 
TRAVEL RELATED - your family holiday coincided with the TMA submission date. (And you are going to have to shop, pack and make your partner sort out their passport so you can't plan to do the TMA early.) 
VARIOUS - your favourite aunt had to go into hospital, the children all had chicken pox, you had a job interview, your laptop died on you and it is coming up to Christmas, you have to do the shopping - all at once. And the family guinea pig needs to be taken to the vet. 
WORK RELATED - there is a big project just coming to fruition and your manager has asked everyone to stay on late to help out (offering you double pay to do so of course 
) 
The main message is - if you are struggling, don't suffer alone. Go on your module Forums and get some emotional support from fellow students, contact your Student Support Team, check the Student Union website - you never know what help may be available to you. Let your tutor know, so we can bear your circumstances in mind and tell you about any tips or support we know of