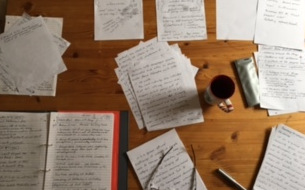 I don't know about you but I learn best by doing and making mistakes. I want to get stuck in, be guided, give it a go and try again and keep trying. These is harder to do in academia than in just about every other walk of life. We should be knocking out short essays every week in preparation for the longer, tutor marked assignments. 
As an OU student on the MAODE I went 'totally digital': no printing off, books on an iPad, type everything off. No more! It made my brain soft and inclined to lazy ineffective learning practices like highlighting passages or cutting and pasting text instead of taking notes the proper way.
I'm now all paper and pen. Handwritten notes in files like it was 1979. Once I've got a draft written THEN I will go the the computer to type it up, add footnotes, correct, share, fix, correct, adjust and eventually submit. 
What works for you?