Personal Blogs
Here is a 'sun dog' I saw yesterday evening.  The sun itself is just off to the left of the picture.  The sun dog is the bright feature in the middle.
These sun dogs appear when sunlight is refracted through hexagonal ice crystals which act as prisms.  They are quite common - much more frequent than rainbows for example - but usually people aren't looking out for them so they get missed.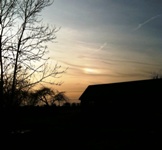 This blog might contain posts that are only visible to logged-in users, or where only logged-in users can comment. If you have an account on the system, please log in for full access.
Total visits to this blog: 1705875