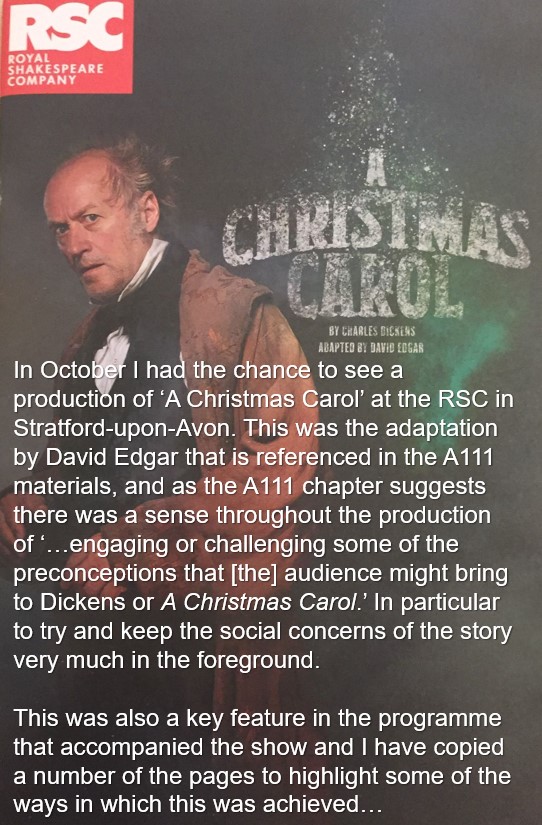 The programme included two short essays, the first was by John Bowen an academic at the University of York and focused on the social background to the original novella. 
'It was a young society, still close in many ways to the Regency of Dickens' youth; a world less stuffy and less secure than we might assume'
'It was a youthful world, not least because so many die young.'
'These decades [1830's and 1840's] were two of the worst to be born into or to have to live through in modern times, as a widespread a systematic social crisis engulfed almost every aspect of people's lives.'
'Britain at this time was rapidly moving towards its commercial and industrial zenith, but working people saw few of its benefits'
Bowen discusses the exploitation of children in the workplace and lack of regulation and often of physical protection in factories.
'The 1830s are often called the 'Angry Thirties' and the 1840s the 'Hungry Forties', for good reason'
Bad harvests in the late 1830's
Corn Laws keeping price of bread high
1832 Great Reform Act extends franchise, but not to working class
The New Poor Law [1834] removed some protections and introduced the workhouse
Persecution of Trades Unions
[The essay could also have mentioned the first cholera epidemic in 1831/2 and the beginning of the Great Famine in Ireland in 1845]
Bowen characterises Dickens at this time as '...both riding high and haunted by his past' a celebrity after the success of early novels, but with his 'shameful family history - of poverty, imprisonment and suffering'
The essay discusses Dickens' response to The Parliamentary Report of the Children's Employment Commission and makes links to A Christmas Carol as mentioned in A111. Bowen suggests that Dickens 'succeeded, at least in part' in striking a blow for the 'Poor Man's Child' - as contributing to an increased recognition and campaigning for reform, with some practical legislative consequences in the 1840s. 
Bowen seeks to address George Orwell's critique that Dickens only sought an individual 'change of heart' rather than addressing systematic causes of poverty, suggesting the virtues he promoted were essentially communal ones and necessary in the absence of other routes to social support. 
Orwell too credits Dickens with wanting much more than this, and states that moral criticism of society has its own 'revolutionary' credentials, 
'Progress is not an illusion, it happens, but it is slow and invariably disappointing. There is always a new tyrant waiting to take over from the old — generally not quite so bad, but still a tyrant. Consequently two viewpoints are always tenable. The one, how can you improve human nature until you have changed the system? The other, what is the use of changing the system before you have improved human nature? They appeal to different individuals, and they probably show a tendency to alternate in point of time. The moralist and the revolutionary are constantly undermining one another.'
Bowen concludes by highlighting the roots of A Christmas Carol: in Dickens's childhood experience; fairy tales and parables; and social circumstances of his day. He suggests that whilst it draws on Christian morality and values its focus is on change in 'the here and now' and to marvel at the positivity that Dickens brings despite his personal experiences.....'an 'ever-generous anger.'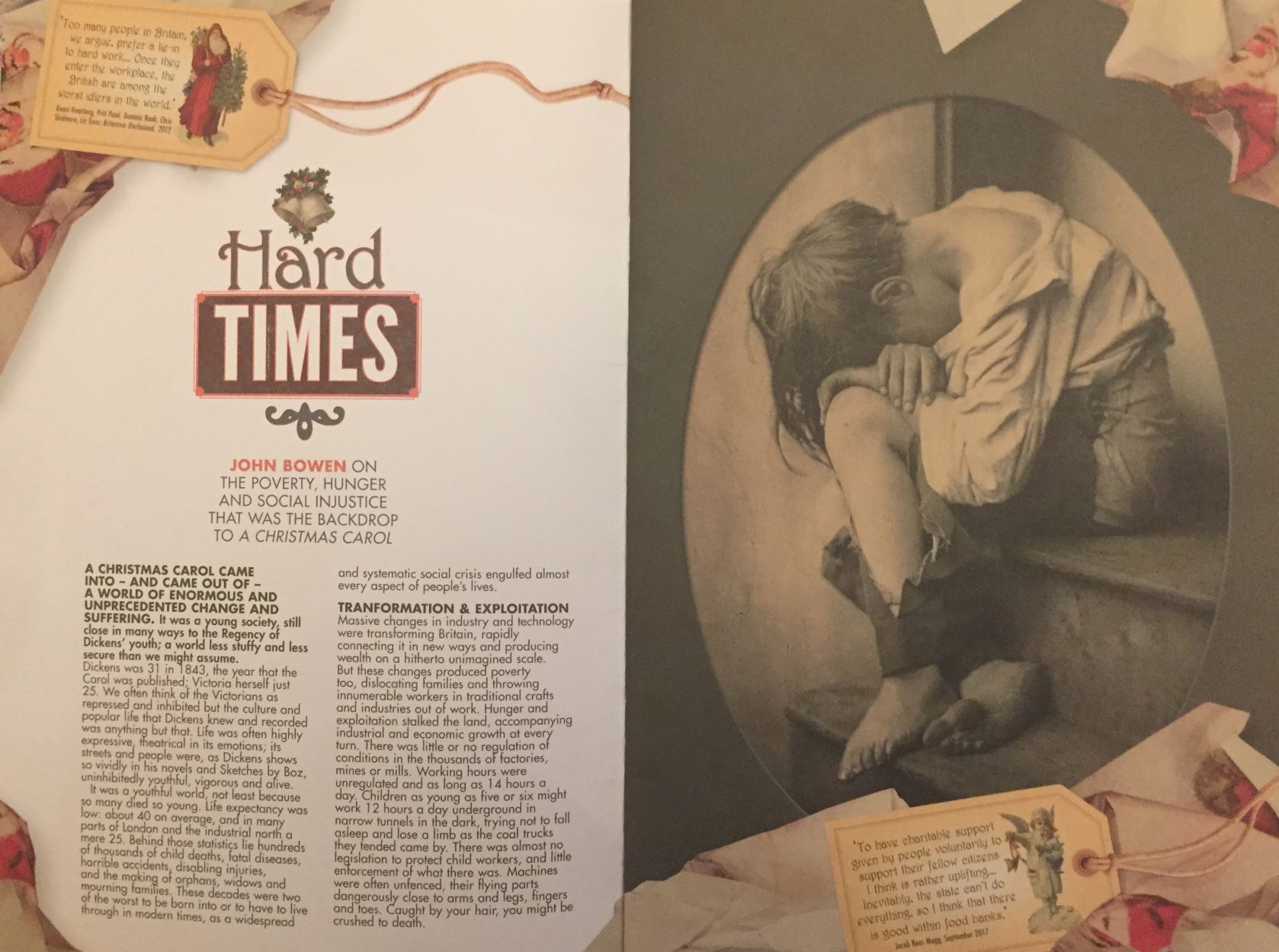 The programme is illustrated with a variety of images - some centred around social circumstances and communal responses to poverty. The credits for the image above point to the 'Science and Society Picture Library' of the National Museum of Science and Media.
Searching the library the original images is: 'A Night in the Streets of London', c 1857. Photograph by Swedish-born photographer Oscar Gustav Rejlander (1813-1875). 
There is also an interesting short biography for Rejlander on the National Museum of Science and Media website. According to his entry in the ODNB, a mirrored image of this photograph was used by the Shaftesbury Society for over a hundred years to highlight the plight of homeless children.
The image below is a contemporary one of a woman working in PPE during the COVID pandemic in a church preparing boxes for a food bank.
Quotations were placed throughout the programme, each displayed on a 'Christmas Gift Tag' with period decoration. There were 14 quotations in total, three were from Dickens himself and there were quotes also from GK Chesterton (an admirer and literary critic of Dickens) and John Forster (Dickens's friend and biographer) - but the most striking in terms of attempting to make links between contemporary political discussion and A Christmas Carol were four by members of the ruling Conservative party:
'Too many people in Britain, we argue, prefer a lie-in to hard work... Once they enter the workplace, the British are among the worst idlers in the world' 

Kwasi Kwarteng, Priti Patel, Dominic Raab, Chris Skidmore, Liz Truss: Britannia Unchained 2012
'To have charitable support given by people voluntarily to support their fellow citizens I think is rather uplifting... Inevitably, the state can't do everything, so I think there is good within food banks.'

Jacob Rees Mogg September 2017
'It is very hard to believe that the right to paid holiday is an absolute moral right.'

Jacob Rees Mogg March 2013
'Dignity is not just about how much money you have got ... It matters if you are earning that yourself, because if you are earning it yourself you are independent and that is the first step towards self-respect.'

Jeremy Hunt, October 2015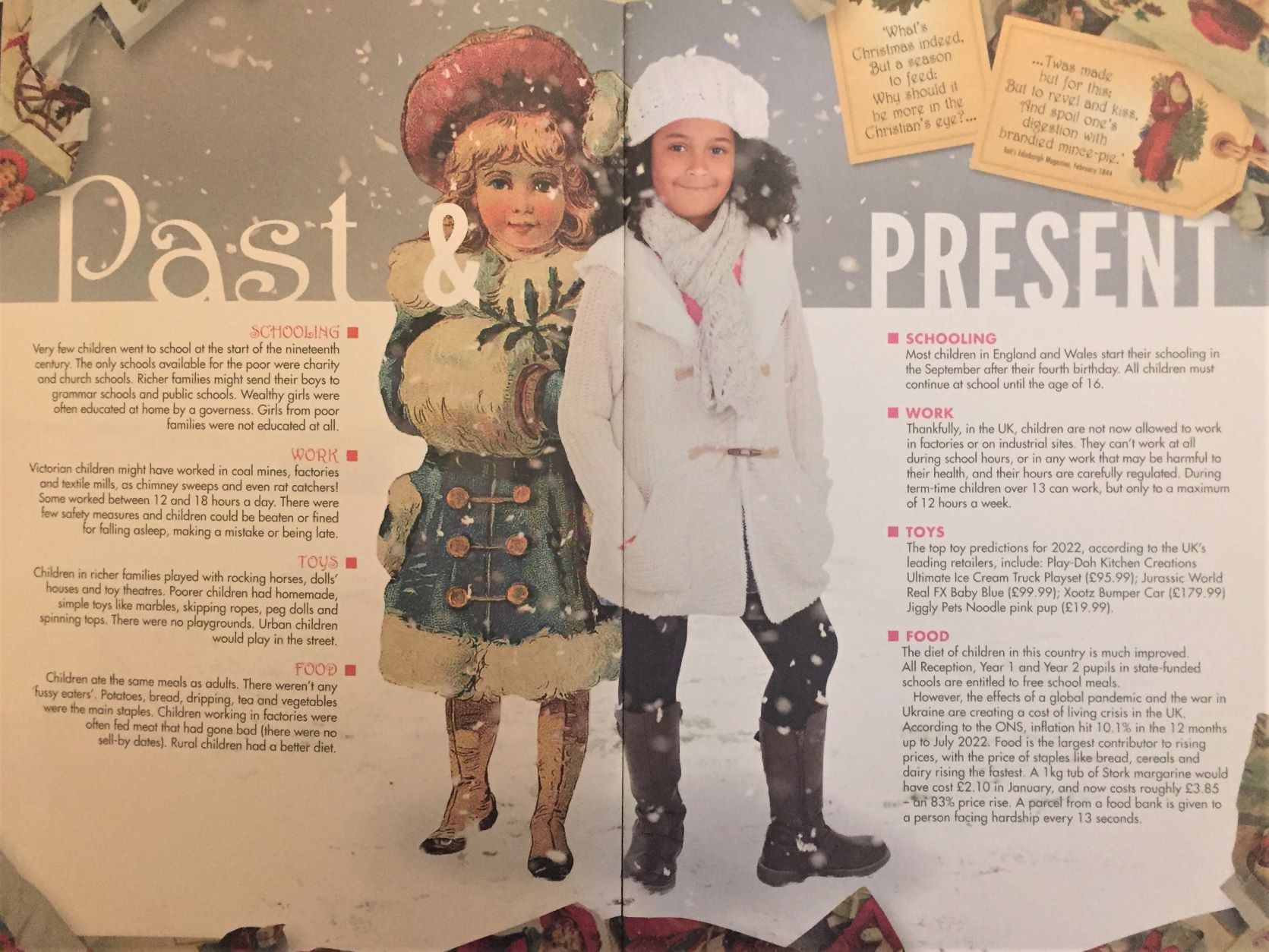 The programme contrasts differences in the social and economic circumstances of children living in the Victorian period and the present day. This is done under the headings of School, Work, Toys and Food. Overall there are of course dramatic improvements in all areas - but the programme also makes reference to rates of inflation in 2022 and the significant increase in food prices. It end by saying that 'Thea parcel from a food bank is given to a person facing hardship every 13 seconds.'
The second essay in the programme is by Sir Christopher Frayling and explores the adaptation and performance of A Christmas Carol.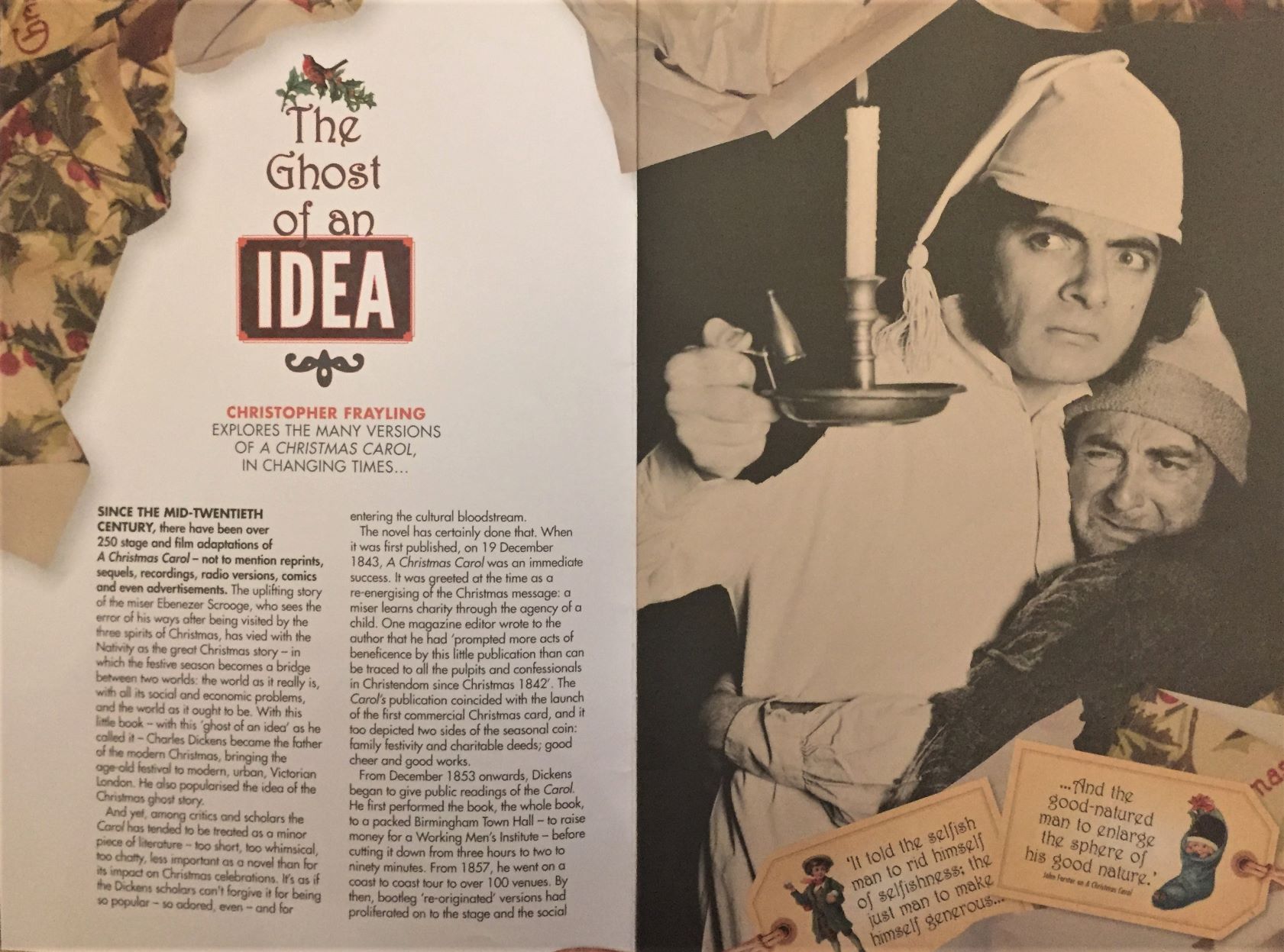 Frayling discusses Dickens's public readings and the presence of multiple 'bootleg' versions on stage by the 1850's, emphasising Christmas jollity over social conscience. He suggests that by the start of the 20th century A Christmas Carol was being seen as a tale for the kiddies, in which the 'nasty ogre...becomes a fairy godfather', 'Neverland rather than now-land'.
'Then' Frayling says, 'came the cinema.' He mentions a number of film adaptations:
Overall, Frayling's main points are around how Dickens's story is reshaped by the concerns and priorities of the times - perhaps with an understandable foregrounding of the social messages at times when societies are economically 'hard-pressed'.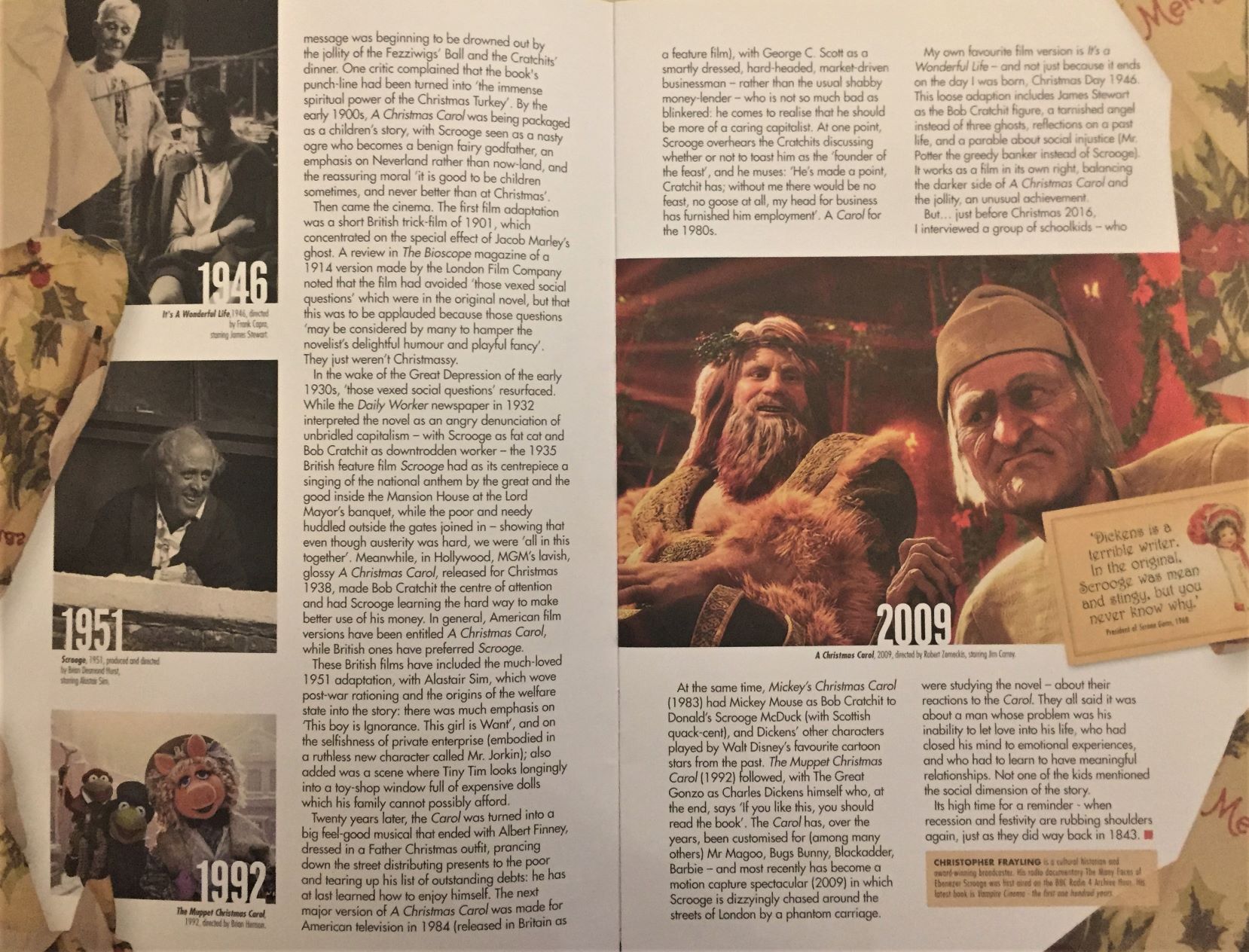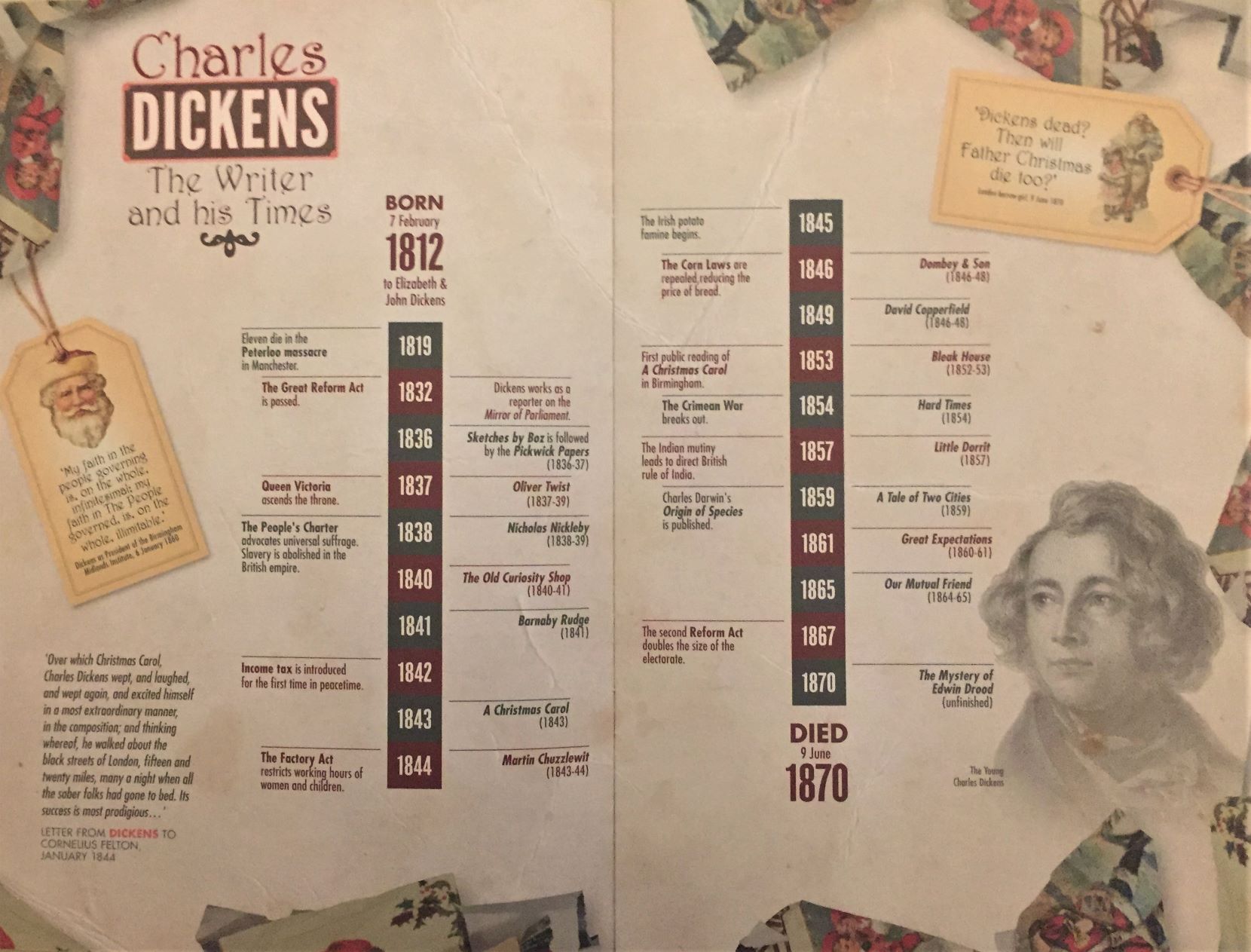 Alongside a timeline of Dickens's publications a number of key dates are highlighted with reference to social and political events across the same period. There are references to Peterloo, the Reform Acts, Chartism, the Factory Act, Irish Famine, repeal of the Corn Laws and the Indian Rebellion.
------------------------------------------------------------------------------------
The programme to this adaptation of A Christmas Carol seems particularly rich in academic and social commentary and the production team appeared happy even to court a little controversy by presenting contemporary political quotes in the text. Overall I think it did a very good job of encouraging the audience to think a little beyond the traditional boundaries of a 'feel-good' Christmas panto.