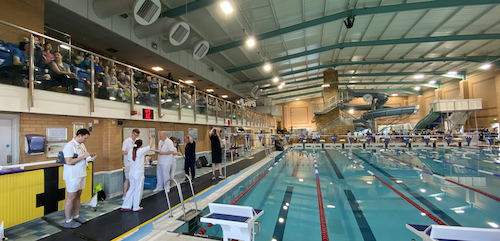 Of all the things I have done over the years, the one thing that has been a constant is teaching club swimmers. Today Mid Sussex Marlins hosted over 150 young swimmers in a Level 4 Swim England event (the times are recognised on the national register). 
These days I just teach - my first love. I enjoy the challenge of identifying and fixing many faults with a stroke in an 8-12 year old and so set them up for a swimming career. We are a competitive club so their efforts and mine come to fruition in a gala. For many of the swimmers today is their first gala, and possibly their first event at the Triangle, Burgess Hill which is far bigger, brighter and noisier than our teaching pools which include The Dolphin, Haywards Heath.
Although there to a Timing Official, I was also a familiar face for my swimmers to speak to. One felt sick, another was confused about whether they were allowed to dive and so on. An eight year old can become quite overwhelmed by it. Two somehow missed their race and another got confused by the starting process and wanted to change he mind about diving in (she didn't want to) as the race was about to get underway. I was relieved that they were given a second chance in empty slots a little later.
I have blogged about swim teaching in Swim Coach Blog  I keep meaning to refresh all my lessons plans, especially now that I have got through each of the competitive strokes, dives and turns this term.