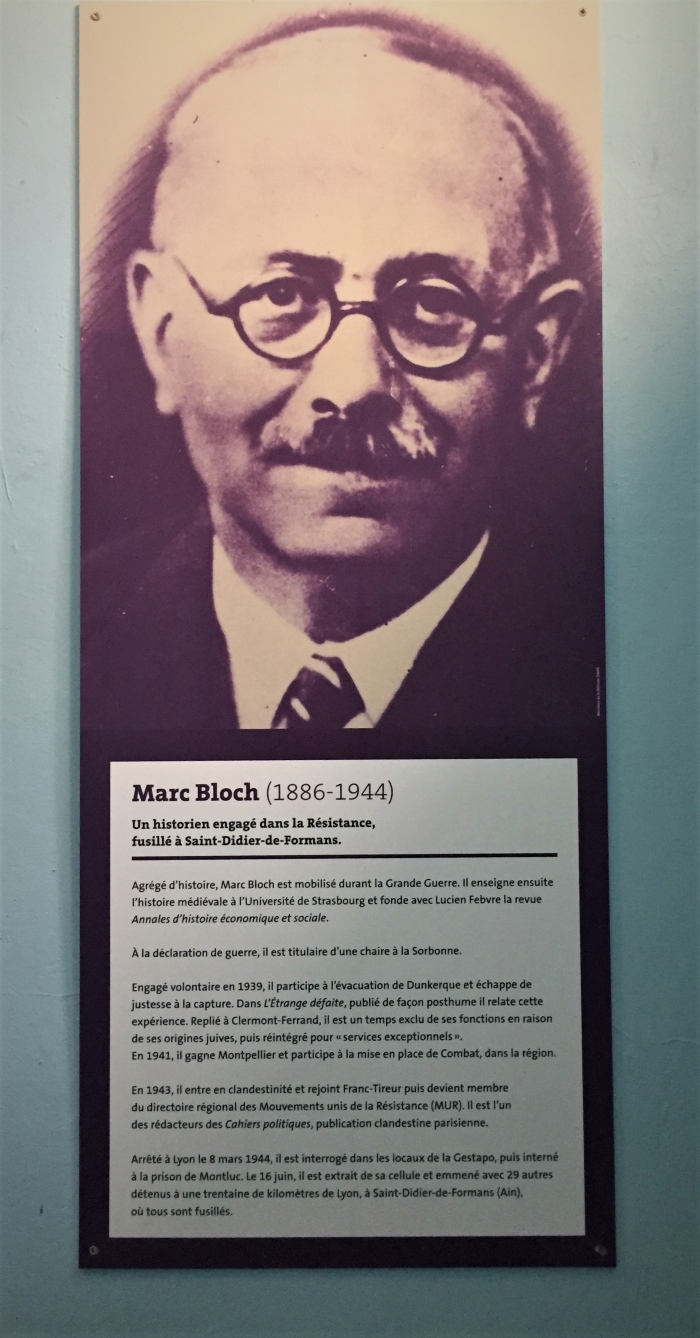 Marc Bloch (1886-1944)
A historian engaged in the Resistance, shot at Saint-Didier-de-Formans.

"A graduate in history, Marc Bloch was mobilized during the Great War. He then taught medieval history at the University of Strasbourg and founded with Lucian Febvre the journal Annales d'histoire économique et sociale.

When war was declared, he held a chair at the Sorbonne.

A volunteer in 1939, he took part in the evacuation of Dunkirk and narrowly escaped capture. In 'Strange Defeat', published posthumously, he recounts this experience. Withdrawn to Clermont-Ferrand, he was for a time excluded from his duties because of his Jewish origins, then reinstated for 'exceptional service'.

In 1941, he went to Montpellier and took part in setting up Combat* in the region.

In 1943, he went underground and joined Franc-Tireur, then became a member of the regional board of the 'Mouvements unis de la Résistance' (MUR)¶. He is one of the editors of 'Cahiers politiques', an underground Parisian publication.

Arrested in Lyon on March 8, 1944, he was interrogated in the headquarters of the Gestapo, then interned in the prison of Montluc. On June 16, he was taken from his cell and taken with 29 other detainees about thirty kilometers from Lyon, to Saint-Didier-de-Formans (Ain), where all were shot."

*(Combat was a large movement in the French Resistance created in the non-occupied zone of France/)

¶(Created by the merger of the three major non-communist movements in the southern zone ("Combat", "Franc-Tireur" and "Liberation-Sud"), chaired by Jean Moulin.)

_______________________________________________________________________
Took an hour or so out of 'holiday-mode' in Lyon to visit Montluc Prison. It was a military prison that became a holding site for members of the WWII French Resistance, Jewish people and other 'undesirables' before execution or deportation to the death camps.
Almost immediately on liberation of Lyon in late August 1944 it became a prison for German military, Gestapo and French collaborators. 
It had further incarnations as a prison for members of the Algerian independence fighters (the site of 11 executions) and then for women - it closed finally in 2009.
The commemorated and memorialised history was limited to the 'positive' stories of French resistance, though (as far as my school French could take me) accounts of individual prisoners were not sensationalised - there was material available that covered the entire history of the site.
I went out of curiosity chiefly, my son is a student of medieval history and had mentioned the story of the historian Marc Bloch - there are accounts (I don't know their validity) that Bloch spent some of his time at Montluc in teaching French history to other inmates. 
It was a somber and serious site and a real relief to walk back out through the gates.